Press Relase: Monday, 10 October, 2005 (27 Assu, Samvat 537 Nanakshahi)
UNITED SIKHS Mobilises GHANAIA Relief Teams to South Asian Earthquake Regions
UNITED SIKHS URGENTLY SEEKS DONATIONS AND VOLUNTEERS WITH VALID VISAS
UNITED SIKHS Base Camp: Baramulla, J&K
Camp Coordinator: Bhai Esher Singh, 91-9872234651
To receive forthcoming bulletins join at PR_UNITEDSIKHS-subscribe@yahoogroups.com
USA: 1-888-243-1690, UK: 44- 870 1993328, INDIA: 91-9872234651
Srinagar, Jammu & Kashmir (J&K) - UNITED SIKHS has deployed GHANAIA earthquake relief teams in the affected areas of both India and Pakistan. A GHANAIA earthquake relief base camp has been set up in Uri, Kupwara district, the affected area on the Indian side of the India-Pakistan border. Another base camp is being setup in Pakistan at Gurudwara Panja Sahib in Hasan Abdal, about 45 km from Rawalpindi, with the help of Pakistan Sikh Gurudwara Prabandhak Committee (PSGPC) and the American Gurudwara Prabandhak Committee (AGPC). Efforts are also being made to set up similar base camps in other affected areas of Pakistan.
The earthquake, which occurred on October 8, 2005, caused unprecedented damage to life and property in Northern parts of Pakistan, India and Afghanistan. More than 40,000 are feared dead, thousands remain buried and millions have been made homeless. In a phone interview, Kuldeep Singh Bali, 50, president of Gurudwara Prabandhak Committee Srinagar apprised UNITED SIKHS of the extent of damage in his region. He said that thirteen Sikh families lost their homes and suffered injuries in Uri while another 150 Sikh families suffered damages in the Kupwara district of Jammu and Kashmir. Victims immediately need dry ration, langgar, blankets, tents, medical supplies, and financial help. He further stated that the walls of the historic Parampila Gurudwara Sahib (Pathshahi Chheween) had collapsed and that the Legaima Gurduwara Sahib at Uri has been completely destroyed.
UNITED SIKHS is purchasing emergency supplies such as high-altitude tents and woollen blankets from wholesale markets in Lahore, Delhi, Ludhiana and Amritsar. Jang Bahadur Singh, a professional chef, is heading the Langgar (free community kitchen) camps for the affected people.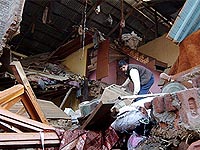 Devastation in Baramulla, Kashmir. Photo Courtesy CNN.com
Bad communication by road is posing a great challenge for the delivery of supplies to the remote areas. UNITED SIKHS has requested logistics assistance from the Panjab government. The logistics team led by UNITED SIKHS project coordinator, Bhai Esher Singh, is making all efforts to solve the logistical problems.
"We need to get supplies to the remote areas of Azad Kashmir of Bagh, Muzzafarabad and Rawalakot and Balakot and Manshera in the North-West Frontier province," said Dr Naim Niazi, a humanitarian relief co-ordinator who is assisting UNITED SIKHS to procure and mobilise emergency supplies on the Pakistan side. Dr Naim, based in Islamabad, is co-ordinating with the Pakistani army to ensure that aid agencies are able to send emergency supplies to the remote areas.
UNITED SIKHS calls for help and support from national and international Sikh and non-Sikh communities and organizations, to assist all those in need. Along with monetary donations from individuals and organizations, there is also a need for volunteers with valid Pakistani visas. Any help at this time of need will be greatly appreciated.
South Asian Earthquake Relief Links:
Issued by:
Kuldip Singh
Director
UNITED SIKHS
1-888-243-1690
---
Our Mission
To transform underprivileged and minority communities and individuals into informed and vibrant members of society through civic, educational and personal development programs, by fostering active participation in social and economic activity.
UNITED SIKHS is also an avenue for networking between like-minded organisations to establish and nurture meaningful projects and dialogues - whether social, cultural or political- to promote harmony, understanding and reciprocity in our villages, towns and cities.
UNITED SIKHS is a coalition of organisations and individuals, who share a common vision based on the belief that there is no greater endeavour than to serve, empower and uplift fellow beings. The core of our philosophy is an unwavering commitment to civic service and social progress on behalf of the common good.
Accordingly, UNITED SIKHS has sought to fulfil its mission not only by informing, educating and uplifting fellow beings but also by participating in cross-cultural and political exchanges to ensure that the promises and benefits of democracy are realized by all.
We at UNITED SIKHS believe that the development of enlightened and progressive societies can be made possible by socially conscious groups of people who make a commitment to develop and direct human potential. Our work, efforts and achievements stand as a testament to our faith in this vision.