Haitian Families in Brooklyn Receive Legal Assistance, Hot Meals as Part of UNITED SIKHS Haiti Earthquake Relief Effort
Brooklyn, NY: UNITED SIKHS is providing urgent legal advocacy services and serving Langgar (traditional Sikh community hot meals) to Haitian families in NYC impacted by the earthquake and to Haitian repatriates who have arrived in the US. Legal assistance is being provided at the New York Haitian Earthquake Family Resource Center at the New York National Guard Armory in Brooklyn, and at the Family Support Center at the Haitian First Church of the Brethren in Brooklyn organized in conjunction with New York Disaster Interfaith Services (NYDIS) and the American Red Cross. Langgar was served to Haitian families and visitors to the Family Support Center.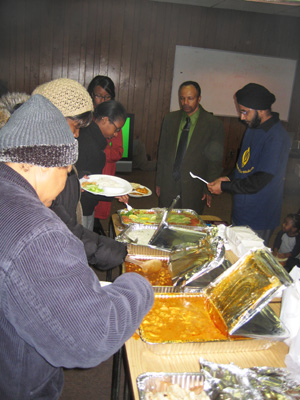 Langar Being Served at the Family Support Center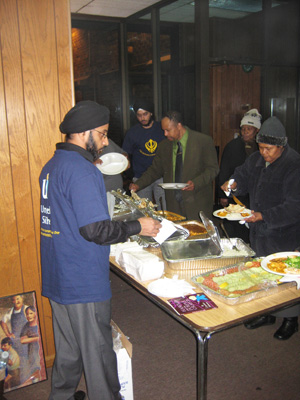 Volunteers Serving Langar at the Family Support Center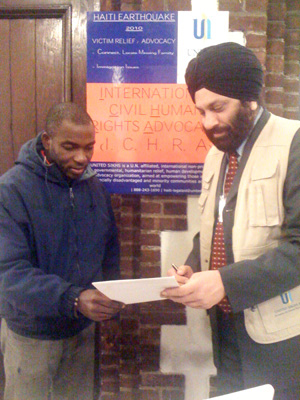 Birmohan Singh at the Family Resource Center at the New York National Guard Armory
UNITED SIKHS is involved in doing intake and reviewing cases brought to the Family Resource Center and has undertaken urgent legal advocacy in cases. Cases stem from distressing and heart wrenching circumstances, like the case of a permanent resident mother looking for a way to bring her 5 year old daughter to live with her in the US after her daughter's guardians died in the earthquake. The daughter is currently living in a camp with a friend's friend. Harrowed by the uncertainty of her daughter's conditions, she approached UNITED SIKHS, who has now undertaken the case and is working to help find a way to bring her child home with her.
Peter Gudaitis, M.Div, (Deployed on Haiti Relief with New York Disaster Interfaith Services) President, National Disaster Interfaiths Network (NDIN) commented, "UNITED SIKHS' legal services have brought hope of reunification with loved ones and orphaned children when no government agency or other NGO was offering anything concrete." The UNITED SIKHS legal team is doing intake at the Family Resource Center, and working on several reunification and family adoption cases, helping Haitian families navigate the legal system at a time that is emotionally challenging.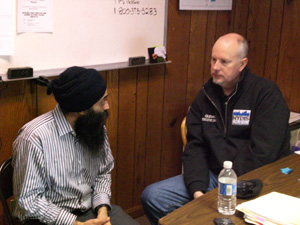 Jaspreet Singh with Peter Gudaitis at the Family Support Center at the Haitian First Church of the Brethren in Brooklyn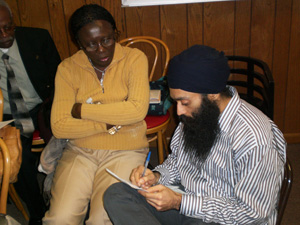 Jaspreet Singh Discussing a Case


Jaspreet Singh, Staff Attorney, UNITED SIKHS commented, "The Haitian earthquake has left many severely affected, and we are working to address the needs of the people on the ground as well those of families here." He added, "We have received emails and feedback from people thanking us and saying that they appreciate the work we do. We are glad to represent the Sikh community in this effort and assist in this time of need."
The Langgar sewa began on January 19 and continued to provide hot meals to people in the Center until February 8. "Immediately following the Haiti Earthquake, as always, UNITED SIKHS was one of our first partners to offer us support and have critical relief operations running, not only in Haiti, but for the impacted Haitian community in NYC" said Peter Gudaitis. "The provision of hot meals for NYC Haitian families in crisis, our neighbors, has been a vital and sacred act of hospitality that will always be remembered."
Families in New York and in Haiti are in desperate need, and need your help. Your donation of any amount could help save lives by providing food, water, temporary shelter, medical services, advocacy, and emotional support to people in need. Please click here to donate.
To read a previous press release on UNITED SIKHS Haiti Earthquake Relief Efforts, visit

http://www.unitedsikhs.org/PressReleases/PRSRLS-05-02-2010-00.html

http://www.unitedsikhs.org/PressReleases/PRSRLS-04-02-2010-00.html
Issued by:
Kuldip Singh
Director
UNITED SIKHS
sikhaid@unitedsikhs.org
Ph: 1-888-243-1690
You can help those affected by countless crises around the world each year by making a financial gift to the UNITED SIKHS, which will provide immediate relief and support to those in need. Call 1-905-672-2245 or 1-888-243-1690 for more information. Contribute to UNITED SIKHS through local chapter in your country http://unitedsikhs.org/contact.php . Internet users can make a secure online contribution by visiting http://unitedsikhs.org/donate.php . If you wish to designate your donation to a specific disaster please do so at the time of your donation.
UNITED SIKHS would like to acknowledge the support and generosity for the continuous serving of Langar for repatriated Haitians in Brooklyn, NYC. We would like to thank the sangat and the management committees of -

Gurdwara Makhan Shah Lobana Sikh Center: President Jarnail Singh, Secretary Kulvir Singh, founding member Master Mohinder Singh, Langgar chairperson Gurmit Singh

The Sikh Cultural Society of New York: President Tehal Singh, Secretary, Langgar Chairperson Piara Singh, Bhupinder Singh
The Sikh Center of New York, Flushing: President Hardev Singh Padda, Secretary Sardool Singh, Langgar-in -charge Karamjeet Singh
Gurdwara Sant Sagar, Bellrose, NY: Sajjan Singh, Dalip Singh, Tehal Singh, Prithpal Singh, Sher Singh, Garib Singh, Rachpal Singh, Bibi Sharn Kaur, Jagdish Arora, Ravinder Rathra
Gurdwara Ramgharia Sikh Society: President Harbans Singh Bharraj, Secretary Balwinder Singh Seera, Langgar-in-charge: Inderjit Singh

Guru Gobind Singh Sikh Center, Plainview, NY: Inder Singh Dhall, President, Prithpal Singh Kandhari, Chairman, Ravinderpal Singh Sikka, Secretary, The Managing Committee

Sant Baba Prem Singh Society: President Baba Rajinder Singh Lally, Vice-President Rachpal Singh, Balwinder Singh and Rajinder Singh Jindi

Sikh Youth Of America: Dr. Ranjit Singh, Blacka Singh
Business: Tandoor Palace, NYC

Volunteers: Master Hardev Singh Ji, Arvind Kaur, Sukhpreet Singh, Mankanwal Singh, Jejiminder Singh, Tajinder Singh, Navjodh Singh and Meena Kaur,
IMMEDIATE NEED FOR:
Food: Supplies for Hot-Meals, Baby Food and Clean Drinking Water
Medical Assistance and Supplies. Please click here for the medical supply list
Emergency and Hygienic Supplies
Temporary Shelter Material, Tents
Legal, Medical and General Volunteers
Donate at www.unitedsikhs.org/donate or mail a check to a UNITED SIKHS office nearest to you.
Contact Us