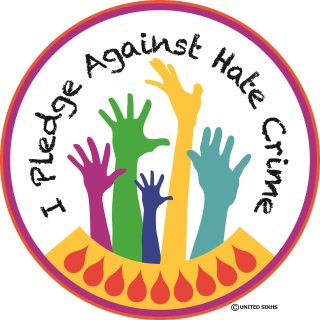 UNITED SIKHS launches "I Pledge Against Hate Crime" Campaign
Hate Crime is a serious issue that impacts us all and we must all join to BEAT it
Highlights:
UNITED SIKHS launches a I Pledge Against Hate Crime campaign to combat the hate crime issues faced by communities
EMERGENCY RESPONSE TEAM starts work with families and law enforcement agencies in Wisconsin and Nationwide.
Trauma counsellors are scheduled to arrive Thursday, August 9th to start assisting with the post traumatic stress related effects of the event to the Oak Creek Community at large.
Additional volunteers arriving in Wisconsin in the upcoming week to work with the community and victimsí families.
Vigils are being planned and all communities being urged to participate around the world
UNITED SIKHS extends the National Helpline 1-855-US-UMEED ( 1-855-878-6333) to all individuals seeking assistance as they come to grips with the tragedy.
Constant communication with the media and the community members to ensure active and correct information is being reported, not only as the events unfold, but also that accurate information regarding the Sikh panth is being sent out to the public.
Inter-faith communities called upon to show solidarity by holding prayer vigils in places of worship.
The Archbishop of Canterbury (UK) assures Sikhs of his prayers following the devastating attack on the Sikh Gurdwara and his office urges Christian churches and Sikh Gurdwaras to work together with Inter-faith groups to hold vigils and pray for the families involved
8th Aug 2012 - UNITED SIKHS has launched a I Pledge Against Hate Crime campaign to combat the odium of violence that the community has been facing since 9/11. We urge people of all faith and no faith across the globe to organize and participate in Inter-faith vigils within their respective communities to remember and pray for the individuals and communities affected by this tragic event.
To Carry out your Pledge against Hate Crime, we urge you to do the following NOW:
Join "I Pledge Against Hate Crime" at www.facebook.com/ipledgeagainsthatecrime and follow us on twitter @No2HateCrime
Add the "I Pledge Against Hate Crime" logo on your own facebooks . Click here for the logo
Organize vigils and notify us at vigil@unitedsikhs.org so we may publicise the events.
Write a letter to the President of the USA and submit the letter in person or by post to the White House or at an American Embassy near where you live. Click here for a template letter, which you should print, complete, sign and submit.
The UNITED SIKHS EMERGENCY RESPONSE TEAM is working with families to assist and overcome the tragedy. Trauma counsellors will arrive on Thursday, August 9th to help the Oak Creek community with Post Traumatic Stress related effects from the event.
A group of volunteers are on their way to Wisconsin and work with the families of the victims and the Oak Creek community. Dr. Kiran Arora from Boston, Jasleen Kaur from Univ of Michigan and Harpreet Singh from Los Angeles will be joining the UNITED SIKHS ground team at Wisconsin. Dr. Seema Kaur from California will also be assisting the team off ground.
UNITED SIKHS has been in continuous communication with the media and community members to ensure that all reported information is accurate, and also that the information regarding the Sikh panth is correct as well. We will continue to do so as the events unfold.
Please contact us at contact@unitedsikhs.org for any assistance, if you would like to contribute in any way or if you want to inform us about vigils or actions being organized across the communities.
Please like us or give your comments on twitter @No2HateCrime and facebook www.facebook.com/ipledgeagainsthatecrime
We will continue to update the community on the latest developments. Letís pray together for the innocent victims in this hour of crisis.
To speak to a UNITED SIKHS representative directly, please visit http://unitedsikhs.org/contact.php to find an office near you.
Issued by:
Jatinder Singh
Director
UNITED SIKHS:
Phone: 1-510-421-0538, 1-888-243-1690, 1-646-688-3525
unitedsikhs-usa@unitedsikhs.org