Please Be Involved, Click here and Join UNITED SIKHS
To receive forthcoming bulletins join our UNITED SIKHS Yahoo group
To donate go to www.unitedsikhs.org/donate
This Press Release may be read online at: http://www.unitedsikhs.org/PressReleases/PRSRLS-08-05-2008-00.htm
Press Release: 8th May 2008, Tuesday 25th Vaisakh (Samvat 540 Nanakshahi )
Press Release
UNITED SIKHS Takes Sikh Awareness Project to Hercules Library in California
Hercules City, California: UNITED SIKHS took its Sikh Awareness Through Libraries ( SATL) project yesterday to the Hercules Library, which received thirty books providing information on Sikhism donated by Amrik Singh Pannu. "We greatly appreciate UNITED SIKHS for bringing these valuable materials to our libraries," commented Elliot Warren, Senior Community Library Manager. "It will help bring communities together," he added.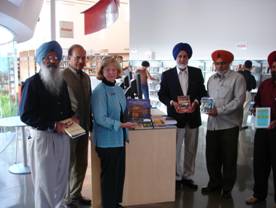 Amrik Singh (far left) and Barb Johnson (left of centre) with community members.
SATL, as part of UNITED SIKHS' Education and Empowerment initiative, aims to improve the availability of information on Sikh culture, history and religion via multimedia resources - books, DVDs, CDs and microfilms. Under the SATL project, donors order books on the list of recommended books and resources on the UNITED SIKHS website at www.unitedsikhs.org/satl . These resources are then donated to libraries of the donor's choice, including those in schools, universities and other educational institutions, throughout the world. The objective of the project is to reach out to various demographics through multiple media to provide global access to reliable and complete information on Sikhs.
Donor Amrik Singh commented on the need for educational materials being available to the public, stating, "If everyone can join together to raise awareness on who Sikhs are and to make the Sikh appearance a more familiar sight, perhaps we can reduce bias and hate crimes on completely innocent people. Sikhism preaches love for all human beings, so it hardly seems fair that they are targeted for such attacks."
| | |
| --- | --- |
| | |
| Amrik Singh, centre, with Elliot Warren (right of Singh), Barb Johnson (right of Warren), and members of the community. | |
Among the attendees at the Hercules library were Barb Johnson, Representative of Congressman George Miller, and Harry Singh, Commissioner of Community and Recreation Services of Hercules City, both of whom were invited by UNITED SIKHS. Speaking on Miller's behalf, Johnson remarked, "Congressman Miller is very proud to be representing the Sikh community in the 7th District and is very pleased to support the distribution of materials that help create an understanding community." Johnson also proceeded to pledge Miller's unwavering support for the Sikh community, encouraging Sikhs members of the community to address issues to the congressman. Harry Singh, being so impressed by the initiative, he has pledged to donate books at the next library donation site, adding that "[the initiative] is a very good step in raising awareness of Sikh history and values for their fellow Americans."
UNITED SIKHS would like to extend thanks to Amrik Singh, Hercules Library, Congressman George Miller, Harry Singh, and the City of Hercules, for their efforts towards educating the public on the Sikh faith and Sikh issues.
If you are interested in bringing Sikh awareness materials to your favourite or local library, please visit the following link for information and recommended materials:
http://unitedsikhs.org/satl/

Issued by:
Baljit Kaur
UNITED SIKHS
Email: sikhlibrary@unitedsikhs.org
1-888-243-1690

---
Our Mission
To transform underprivileged and minority communities and individuals into informed and vibrant members of society through civic, educational and personal development programs, by fostering active participation in social and economic activity.
UNITED SIKHS is also an avenue for networking between like-minded organisations to establish and nurture meaningful projects and dialogues - whether social, cultural or political- to promote harmony, understanding and reciprocity in our villages, towns and cities.
UNITED SIKHS is a coalition of organisations and individuals, who share a common vision based on the belief that there is no greater endeavour than to serve, empower and uplift fellow beings. The core of our philosophy is an unwavering commitment to civic service and social progress on behalf of the common good.
Accordingly, UNITED SIKHS has sought to fulfil its mission not only by informing, educating and uplifting fellow beings but also by participating in cross-cultural and political exchanges to ensure that the promises and benefits of democracy are realized by all.
We at UNITED SIKHS believe that the development of enlightened and progressive societies can be made possible by socially conscious groups of people who make a commitment to develop and direct human potential. Our work, efforts and achievements stand as a testament to our faith in this vision.