Sikhs Unite in Wake of the Wisconsin Tragedy
"Sikhaan Daa Mun Nivaa, Muth Uchchi.."
Implies "keep the emotions in your heart calm and mental reasoning clear. " As Sikhs recite this in their Ardaas (prayers) everyday, they are reminded to remain humble and grounded.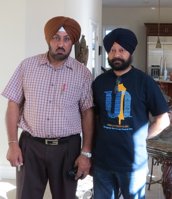 It is this lesson of humility that had joined the Sikhs together across the world. UNITED SIKHS stands in solidarity with the Sikh communities rising above the tragedy that occurred on August 5, 2012 at the Sikh Gurudwara in the Milwaukee suburb of Oak Creek in Wisconsin. With the hope and prayer that the world will be made safer for everyone, UNITED SIKHS mobilized its teams to help the community:
UNITED SIKHS EMERGENCY RESPONSE TEAM reached Wisconsin to provide immediate and first-hand assistance to the families dealing with the tragedy.
Trauma counsellors scheduled to arrive Thursday, August 8th to start assisting with the post traumatic stress related effects of the event on the Oak Creek Community at large.
Launches "I pledge against Hate Crime" campaign to raise awareness against such senseless acts.
Installs a Task Force to communicate with law enforcement agencies in United States to ensure community confidence in their safety is restored
Extended the National Helpline 1-855-US-UMEED ( 1-855-878-6333) to all individuals seeking assistance as they come to grips with the tragedy.
Has been in constant communication with the media and the community member to ensure active and correct information is being reported, not only as the events unfold, but also that accurate information regarding the Sikh panth is being sent out to the public.
Calls upon Inter-faith communities to show solidarity by hold prayer vigils in places of worship.
Created an action plan and toolkit for community safety.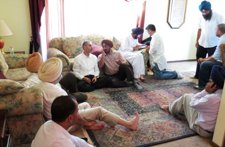 Rising in solidarity, Sikh organizations including The Sikh Coalition, Sikh American Legal Defense and Education Fund ( SALDEF) , Sikh Research Institute and UNITED SIKHS, in collaboration with local Sikh leaders, institutions and Gurdwaras, urge Sikh Americans, across the nation, to organize inter-faith vigils within their respective communities for Wednesday, August 18th, evening to remember and pray for the individuals and communities affected by this tragic event.
Please use the links below to get more information as you spread the word across your communtiy:
Talking points about Sikhism and what people can do to help the victims and their families
Pledge against hate crimes. Join "I Pledge against Hate Crime" campaign
How can I help or donate to help the families ?
Please go to either one of these sites and click contribute now.
SALDEF has developed a Toolkit if you would like to organize a vigil in your community.
How can I join a vigil ? Please click here to join our facebook page which is constantly being updated with information on vigils across the country. Please join and encourage all to join in solidarity.
How can I make myself safe ? UNITED SIKHS has developed a Toolkit and action plan to prepare communities for an emergency situation.
Please contact us at unitedsikhs-usa@unitedsikhs.org for any assistance, if you would like to contribute in any way or if you want to inform us about vigils or actions being organized across the communities.
We will continue to update the community on the latest developments. Let's pray together for the innocent victims in this hour of crisis.
To speak to a UNITED SIKHS representative directly, please visit www.unitedsikhs.org/contact.php to find an office near you.
Issued by:
Jatinder Singh
Director
UNITED SIKHS:
Phone: 1-510-421-0538, 1-888-243-1690, 1-646-688-3525
unitedsikhs-usa@unitedsikhs.org