"A right accorded under the Indian Constitution cannot be taken away by any law or order or rule by any agency. Hence the Kirpan ban imposed by CISF on April 25th was illegal," said Mejindarpal Kaur, UNITED SIKHS Legal Director.
"UNITED SIKHS would like the Government to take measures to ensure that all their ministries and agencies are familiar with people's constitutional rights so that no one would have to suffer the arbitrary withdrawal of his/her constitutional rights, as Nirmal Singh and 18 other Sikhs suffered when they were not allowed to wear their kirpan on the airside at Amritsar airport since Apr 25th to date," she added.
Amritsar, Panjab 7th June 2011 – The Central Industrial Security Force (CISF) has today lifted the ban it had imposed in April on the wearing of a Kirpan by employees working on the airside at the Sri Guru Ramdas International Airport, Amritsar, following a campaign by the UNITED SIKHS and the Shiromani Gurdwara Parbandhak Committee (SGPC).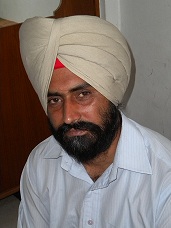 "The ban has been lifted so that Sikh employees working on the airside at Amritsar airport may wear a Kirpan on the same terms as passengers are allowed to wear it on domestic flights. I am sorry for any inconvenience caused by the recent ban," Mr Sharad Kumar, the Commandant of CISF who initially announced the ban, told UNITED SIKHS by telephone.

"A right accorded under the constitution cannot be taken away by any law or order or rule by any agency. Hence the Kirpan ban imposed by CISF on April 25th was illegal," said Mejindarpal Kaur, UNITED SIKHS Legal Director.

"We are pleased that good sense has prevailed and that the CISF and the Civil Aviation Bureau has responded by upholding the constitutional rights of Sikhs to wear a Kirpan at all times in India.

"UNITED SIKHS would like the Government to take measures to ensure that all their ministries and agencies are familiar with people's constitutional rights so that no one would have to suffer the arbitrary withdrawal of his/her constitutional rights, as Nirmal Singh and 18 other Sikhs suffered when they were not allowed to wear their kirpan on the airside at Amritsar airport since Apr 25th to date," she added.

"I am very grateful to God that I will now be able to continue working at the airside whilst wearing the Kirpan, which I haven't been able to do since April 25th, " said Nirmal Singh, 37 years old, Air India security staff who was affected by the ban.

Following the imposition of the ban, UNITED SIKHS had written to the Director General of CISF, N.R. Dass asking him to revoke the ban that was enforced on 25th April 2011, because it was unconstitutional as it contravened article 25 of the Indian Constitution, which specifically allows Sikhs to wear a Kirpan at all times.

UNITED SIKHS had also filed a Right To Information application to the Prime Minister's office, Home Affairs Ministry and the CISF seeking information to establish the grounds and lawfulness of the ban.

You may read our previous press release on UNITED SIKHS' campaign to revoke the ban on wearing the Kirpan at Amritsar airport at http://www.unitedsikhs.org/PressReleases/PRSRLS-14-05-2011-00.html

Issued by:
Daljit Singh
Director
UNITED SIKHS
+91 9779957973

Law-global@unitedsikhs.org