Please Be Involved, Click here and Join UNITED SIKHS
To receive forthcoming bulletins join our UNITED SIKHS Yahoo group
To donate go to www.unitedsikhs.org/donate
This Press Release may be read online at: http://www.unitedsikhs.org/PressReleases/PRSRLS-07-05-2008-00.htm
Press Release: 7 th May 2008, Thursday 24th Vaisakh (Samvat 540 Nanakshahi )
Press Release
EEOC Addresses Thousands of Sikhs at Annual Sikh Day Parade in NY
UNITED SIKHS is working on over a dozen cases with the EEOC to combat employment discrimination at the workplace.
Workplace discrimination is increasing against Sikhs. Do not hesitate to report your discriminatory experience.
If you are experiencing discrimination at your workplace, Contact UNITED SIKHS immediately to report your incident by telephone at 1-888-243-1690.
New York, NY, USA - The Equal Opportunity Commission (EEOC) addressed the Sikh community at the Annual Sikh Day Parade in downtown Manhattan on April 26th. The EEOC is a federal agency working to end employment discrimination within the United States, primarily by reviewing and litigating cases on behalf of employees who have faced workplace discrimination.
At a gathering of over 10,000 Sikhs, Brian White, who was invited to the parade by UNITED SIKHS, discussed several issues the EEOC focuses on and how it is working with the Sikh community to fight religious discrimination in the workplace. Mr. White highlighted employment issues Sikhs encounter, including discriminatory incidences relating to hiring, firing, pay raises, and promotions. He also explained how to counter and report these incidents to the EEOC.
Congratulating the assembled Sikh community on their Vaisakhi celebrations, Mr. White commented that the EEOC is working with UNITED SIKHS in assisting the Sikh community on any workplace discrimination issues. Additionally, Mr. White congratulated UNITED SIKHS Legal Director Harpreet Singh for the work UNITED SIKHS has been doing with the EEOC to train investigators about the Sikh faith and common Sikh concerns at the workplace, and expressed his desire to increase outreach efforts into the Sikh community.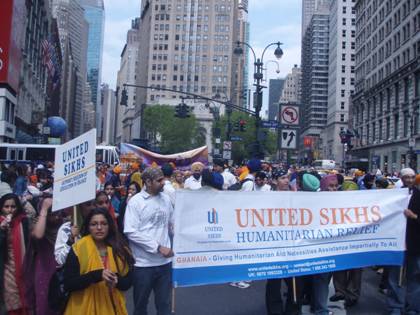 UNITED SIKHS Volunteers Marching in the Sikh Day Parade
Brian White, EEOC Regional Public Analyst for Outreach Addressing the Sikh Community
The EEOC visit to Gurdwara Sikh Center of Houston is a continuing joint effort with UNITED SIKHS to educate the Sikh community about workplace discrimination. Commenting on the collaboration, Bontke stated, "I'm glad to have had this opportunity to reach out and learn about the Sikh community, and I'm looking forward to working with UNITED SIKHS on Sikh discrimination issues in the workplace."
On April 8th, Harpreet Singh, Legal Director of UNITED SIKHS, addressed the EEOC Houston District Office to educate investigators, attorneys, and administrative judges on the Sikh faith. The presentation included post 9-11 issues and concerns the Sikh community has regarding hate and bias crimes, employment discrimination, and specifically religious discrimination based on the kirpan (a blade resembling a scimitar that is carried as an article of faith) and the dastaar, the Sikh turban. A similar presentation was made on April 3rd by Gurvinder Singh, Director of UNITED SIKHS, to the EEOCs Dallas District Office, addressing Sikh discrimination issues with staff attorneys, investigators, and Dallas EEOC Director Michael C. Fetzer.
"UNITED SIKHS would like to thank Joe Bontke and Michael Fetzer for setting up these opportunities to discuss the Sikh community's concerns with EEOC staff," remarked Harpreet Singh. "We look forward to working diligently with the EEOC to educate its staff about Sikh issues so they may better handle cases, as well as to educate the Sikh community about their employment rights."
UNITED SIKHS is working nationally with the EEOC to address issues in the workplace by providing training and creating educational material for the EEOC, as well as working together to handle specific legal cases. UNITED SIKHS has and continues to stress the importance of the Sikh dastaar (turban) and the five articles of faith, including solving the problems faced by Sikhs in wearing their kirpan (a scimitar that is carried by initiated Sikhs).
As a token of appreciation, Mr. White was honored with a plaque for his participation in the Vaisakhi celebration and for the work the EEOC is doing with the Sikh community. Mr. White commented, "I feel honored that you invited me to take part in your celebration, and to give me a chance to address the Sikh community on this festive occasion."
"UNITED SIKHS is pleased that the EEOC took part in the Vaisakhi celebration, and is encouraged by the EEOC's efforts to outreach directly to the Sikh community through education and legal support," said Harpreet Singh whilst thanking the EEOC and Brian White for attending the Annual Sikh Day Parade and educating the Sikh community on their rights at the workplace.
UNITED SIKHS looks forward to collaborating further with the EEOC to ensure that all minority rights are protected in the workplace.
You may read a previous press release on Sikh awareness projects assisted by UNITED SIKHS at: http://www.unitedsikhs.org/PressReleases/PRSRLS-15-04-2008-00.htm
Issued by:
Baljit Kaur
International Civil and Human Rights Advocacy (ICHRA)
UNITED SIKHS
Email: law@unitedsikhs.org
1-(646) 315-3909

---
Our Mission
To transform underprivileged and minority communities and individuals into informed and vibrant members of society through civic, educational and personal development programs, by fostering active participation in social and economic activity.
UNITED SIKHS is also an avenue for networking between like-minded organisations to establish and nurture meaningful projects and dialogues - whether social, cultural or political- to promote harmony, understanding and reciprocity in our villages, towns and cities.
UNITED SIKHS is a coalition of organisations and individuals, who share a common vision based on the belief that there is no greater endeavour than to serve, empower and uplift fellow beings. The core of our philosophy is an unwavering commitment to civic service and social progress on behalf of the common good.
Accordingly, UNITED SIKHS has sought to fulfil its mission not only by informing, educating and uplifting fellow beings but also by participating in cross-cultural and political exchanges to ensure that the promises and benefits of democracy are realized by all.
We at UNITED SIKHS believe that the development of enlightened and progressive societies can be made possible by socially conscious groups of people who make a commitment to develop and direct human potential. Our work, efforts and achievements stand as a testament to our faith in this vision.