UNITED SIKHS Helps 'Taliban' Victims (Sikh Mother and Daughter) Find Asylum in Canada
"We are very happy that the open hearts and minds of the Canadian government and people have given Harender Kaur and her daughter a new life here after they fought a gallant and lone battle as refugees in Pakistan," said Ranbir Singh, UNITED SIKHS Director who met the Sikh mother and daughter on arrival in Canada.
Winnipeg, Canada - 6th Oct 2010 - A Sikh woman and her daughter flew into Winnipeg last week, after her husband was brutally killed two years ago by a group suspected to be the Taliban, near Peshawar.

The pair were granted asylum by the Canadian government after the brutal slaying of the head of their family, Balwant Singh. UNITED SIKHS has provided help to Harender Kaur, 42, and her daughter, Ilmid Kaur, 14, since we 'found' them amongst other Internally Displaced Persons (IDPs) in Gurdwara Panja Sahib in Pakistan, where they had taken refuge after the killing.
On 23 November 2008, a militant group, believed to be the Taliban, kidnapped Balwant Singh from his shop near Peshawar, in the North West Frontier Province of Pakistan (now Khyber Pakhtunkhwa). They kept him hostage before slaying him and his body was found two days later 20 km away. This left Harender Kaur and her daughter alone and destitute and they took refuge 125 km away at the Panja Sahib Gurdwara.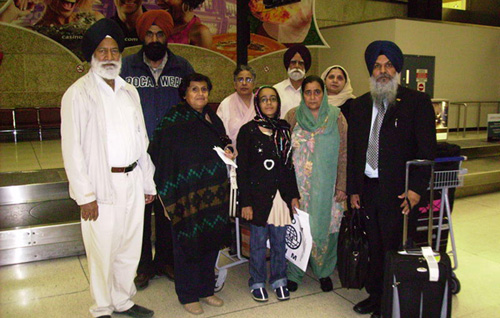 Harender Kaur and Ilmid Kaur being met by representatives of the Sikh community in Winnipeg: From left to right in the front row: Giani Kewal Singh, President Khalsa Divan Society of Manitoba, Azizeh Ferdowsi, Resettlement Counsellor, Ilmid Kaur, Harender Kaur and Ranbir Singh (UNITED SIKHS director). Back row, left to right: Jaswant Singh, Gurpreet Kaur, Dilbagh Singh and Arvinder Kaur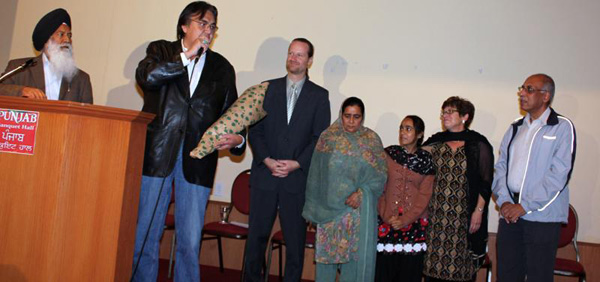 Harender Kaur and Ilmid Kaur being honoured by the Dy Premier of Manitoba, Hon Eric Robinson . From left to right: Giani Kewal Singh, Mr.Kavin (with microphone) , Deputy Premier, Hon. Eric Robinson, Harender Kaur, Ilmid Kaur, Mayoral Candidate, Judy W Leis. and Local M.L.A, Mr. Mohinder Sran
In July 2009, UNITED SIKHS AID volunteers, who were in Pakistan to provide relief during the Pakistan IDP crisis, heard of Harender Kaur's plight and that they had no other family in Pakistan and wanted to be reunited with other family members in the United Kingdom.
"Our humanitarian relief volunteers got in touch with our advocacy team in the UK to contact Harender Kaur's family and to provide assistance with their asylum application," said Mejindarpal Kaur, UNITED SIKHS Legal Director based in London, who led a team of case workers and lawyers in this asylum case.
"We requested the UNHCR (United Nations High Commissioner for Refugees), who were handling their asylum application, to reunite the duo with their family in the UK. But we were told that their chances of obtaining asylum in Canada were better. We, therefore, obtained supporting evidence from their UK family which we submitted to the UNHCR," She added.
Soon after their arrival in Winnipeg, Harender Kaur and Ilmid Kaur were honoured by the Deputy Premier of Manitoba, Hon. Eric Robinson, at a fund raising dinner for Winnipeg Mayor Candidate, Judy W Leis. At an event organized by the Sikh Society of Manitoba, they received siropas (robes of honour) from the renowned Ragi Nirmal Singh, Khalsa Hazoori Ragi of Sri Darbar Sahib, Amritsar. This event was attended by the management of all eight Winnipeg Gurdwaras who had gathered to meet them with the congregation.
When they flew into Canada last week, UNITED SIKHS director based in Toronto, Ranbir Singh, joined them in Winnipeg, where he had made arrangements for them to be warmly received by representatives of the Winnipeg Sikh community.
"We are very happy that the open hearts and minds of the Canadian government and people have given Harender Kaur and her daughter a new life here after they fought a gallant and lone battle as refugees in Pakistan," said Ranbir Singh.
"When we arrived at Winnipeg airport, we were received by community leaders, Giani Kewal Singh and Darshan Singh Brar, and their families. It has been a hectic line up of activities for the duo, as community leaders including Giani Jaswant Singh have made many arrangements to make them comfortable. We have a doctor who said he will do house visits if they need him; a driving instructor who said he will teach them driving for free; they are invited to Sikh homes for meals everyday and the list of help offered is long," he added.
To read a previous press release on UNITED SIKHS' advocacy work for Internally Displaced persons (IDPs) see http://www.unitedsikhs.org/PressReleases/PRSRLS-23-05-2010-00.html
Issued by:
Herpreet Kaur
PR and Media Associate
UNITED SIKHS
UK: +44 8701993328; CANADA: +1 4163022234; USA: 1-888-243-1690
contact@unitedsikhs.org
You may read a Panjabi translation of this press release here
Contact Us
You can help those affected by countless crises around the world each year by making a financial gift to the UNITED SIKHS, which will provide immediate relief and support to those in need. You may donate online at www.unitedsikhs.org/donate or send your donations to a UNITED SIKHS office nearest to you, whose details can be found at http://unitedsikhs.org/contact.php .
THINKING ALOUD
Harender Kaur, 42,: "I came from Afghanistan with my husband Balwant Singh and our daughter, Ilmid. We took shelter in Panja Sahib Gurdwara in Pakistan two years ago. My husband was assassinated by militant groups in the town of Jamrud in the Khyber Agency area of Pakistan. "I have lost my husband I have lost all my property in Afghanistan. We are thankful to UNITED SIKHS who supported us throughout this situation."
Ilmid Kaur, 14, says: "I would like to thank UNITED SIKHS and Mejindarpal Kaur. We are very happy that our journey to Canada has brought us to a home. We were in a hopeless situation in Pakistan as no one would help. But UNITED SIKHS has done a great job helping us with our resettlement in Canada."
Waryam Singh, Harender Kaur's cousin in the UK: "My family is very grateful to UNITED SIKHS for the help they gave my sister and niece and we are moved by the warm welcome given to them by the Canadian Sikh community, especially in Winnipeg."
Kuldip Singh, UNITED SIKHS AID Director: "When the UNITED SIKHS AID team goes into the field to provide humanitarian relief, we not only meet victims of a disaster that takes us there. Instead, we also find minorities who face other problems which we would not otherwise have known about. In Harender Kaur and Ilmid Kaur's case, there was no one to guide them because they had no family in Pakistan. Our relief team worked with our legal team and helped them.
Herdyal Singh, UNITED SIKHS Pakistan Aid Coordinator: "Whilst working on this case, I saw the courage of 14 year old Ilmid Kaur as she faced the challenges of each stage of the asylum process. These brave Sikh women sought sanctuary in Panja Sahib and I am confident that they are now ready to face any challenge of settling into their new home in Canada."
Kulvinder Kaur, UK lawyer who assisted the UNITED SIKHS advocacy team: "In light of the outcome of Mrs Kaur's case, I am hopeful that eligible asylum seekers from Afghanistan and Pakistan can be reallocated to safe countries, where they can commence their rehabilitation and go on to pursue life to their fullest potential.
The opportunity to perform Seva is a wonderful thing and it is rare for an opportunity to arise when one may assist and serve the community in far reaching lands. I would encourage all professionals to share their hard earned knowledge and experience to help the community, wherever they are."
Giani Kewal Singh, Sikh community leader in Winnipeg: "We are in minority and will be a minority in future too. But UNITED SIKHS has made us realize that we are not alone anywhere in this world.
Darshan Singh Brar, Sikh community leader in Winnipeg: They are from our community and this is our duty to take care of them. We welcome them into our Winnepeg family. We are proud of UNITED SIKHS for helping mother and daughter."