Please Be Involved, Click here and Join UNITED SIKHS
To receive forthcoming bulletins join our UNITED SIKHS Yahoo group
To donate go to www.unitedsikhs.org/donate
This Press Release may be read online at: http://www.unitedsikhs.org/PressReleases/PRSRLS-05-10-2009-00.htm
Press Release: 5th October 2009, Thursday, 21st Asu (Samvat 541 Nanakshahi)
Press Release
Clothing Store Denies Discrimination against Turbaned Sikh; Admits Staff Did Not Understand Dress Policy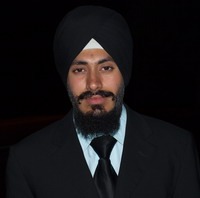 •UNITED SIKHS is currently working on over twenty-five cases to combat employment discrimination at the workplace in California, New York, Michigan, Texas, Illinois, New Jersey, North Carolina, and Virginia in the United States, in Canada, and in the United Kingdom.
•If you are experiencing discrimination at your workplace, contact UNITED SIKHS immediately to report your incident by telephone at 1-888-243-1690.
•We are determined to continue our fight against employment discrimination, and to raise awareness about Sikhs to employers and the general public. We need your support. Click here to donate.
Westchester, New York, USA: A prominent clothing store denied they had discriminated against Amandeep Singh, a young Sikh man, when he was refused a job because of his turban and claimed that their staff had not understood their dress policy. When Amandeep applied for a job at the Kenneth Cole retail store in Westchester Mall earlier this summer, he did not expect to experience discrimination. In a second interview, the manager of the store expressed interest in hiring him, but then inquired as to the necessity of his wearing of the dastaar (Sikh turban). Amandeep described his dastaar as a requirement of the Sikh faith, and the manager informed him that "Kenneth Cole's company dress policy clearly states that it did not allow shorts, baggy pants, visible logos, tube-tops, miniskirts, or headgear," and therefore they would not be able to hire him. This came as a surprise to Amandeep, as Kenneth Cole used a Sikh model, Sonny Singh Cabberwal, in an advertising campaign in the Fall of 2008, and that campaign was heralded by the Sikh community. After Amandeep contacted UNITED SIKHS, we wrote to Kenneth Cole asking that the incident be immediately investigated, a change in corporate policy be instituted, an apology be issued to Amandeep Singh, and training be put in place regarding diversity including education about Sikhs. Kenneth Cole responded with an apology, stated that the particular store's associates did not understand the relevant policies, and stated the Company's policy "does not prohibit headgear worn because of a sincerely held religious belief." Representatives from the Company also called Amandeep and offered to continue his interview process. UNITED SIKHS is pursuing a change to the policy that explicitly expresses the exception for the dastaar (Sikh turban), and is continuing to advocate for training to ensure that incidents such as this one are not repeated.
Amandeep Singh commented on the experience, stating, "Being born and raised in the United States, I never thought I would be discriminated against because of my religion. I will now have this incident in mind every time I apply for for a job." The dastaar (Sikh turban) is the most recognizable feature of a Sikh. It is an inextricable part of the Sikh identity and is worn by a Sikh at all times, to cover the kesh (unshorn hair), one of the five articles of faith initiated Sikhs are required to maintain. The requirement of unshorn hair and a dastaar tied over it has been codified in the Sikh Code of Conduct (Sikh Rehat Maryada).
Commenting on the case, Jaspreet Singh, Staff Attorney, UNITED SIKHS stated, "While Kenneth Cole has stated it does not support a discriminatory policy against religious headgear, we are continuing to pursue this matter with the Company to ensure that proper protocol is in place so that incidents like this one do not occur again. Employment discrimination has been a consistent problem for Sikhs in the United States, and every incident like this one must be treated seriously." UNITED SIKHS is working closely with the Equal Employment Opportunity Commission and other state civil rights agencies to address workplace discrimination against Sikhs.
UNITED SIKHS encourages the Sikh community to wear their kakaars, fearlessly exercise their freedom of religion, and to contact us with any problems, concerns, or incidents of discrimination.
To read a previous press release on UNITED SIKHS advocacy efforts around employment discrimination, please visit: http://www.unitedsikhs.org/PressReleases/PRSRLS-06-08-2009-00.htm
Help us tailor our advocacy initiatives for the greatest global impact by participating in the Global Sikh Civil Rights Survey. We will be conducting town-hall meetings to discuss this. Watch out for the dates.
Donate to assist us in initiatives like this one; your donation is tax-deductible.
Issued by:
Jaspreet Singh
Staff Attorney
International Civil and Human Rights Advocacy (ICHRA)
UNITED SIKHS
Phone: 646-315-3909
law-usa@unitedsikhs.org
---
Our Mission
To transform underprivileged and minority communities and individuals into informed and vibrant members of society through civic, educational and personal development programs, by fostering active participation in social and economic activity.
UNITED SIKHS is also an avenue for networking between like-minded organisations to establish and nurture meaningful projects and dialogues - whether social, cultural or political- to promote harmony, understanding and reciprocity in our villages, towns and cities.
UNITED SIKHS is a coalition of organisations and individuals, who share a common vision based on the belief that there is no greater endeavour than to serve, empower and uplift fellow beings. The core of our philosophy is an unwavering commitment to civic service and social progress on behalf of the common good.
Accordingly, UNITED SIKHS has sought to fulfil its mission not only by informing, educating and uplifting fellow beings but also by participating in cross-cultural and political exchanges to ensure that the promises and benefits of democracy are realized by all.
We at UNITED SIKHS believe that the development of enlightened and progressive societies can be made possible by socially conscious groups of people who make a commitment to develop and direct human potential. Our work, efforts and achievements stand as a testament to our faith in this vision.