Please Be Involved, Click here and Join UNITED SIKHS
To receive forthcoming bulletins join our UNITED SIKHS Yahoo group
To donate go to www.unitedsikhs.org/donate
This Press Release may be read online at: http://www.unitedsikhs.org/PressReleases/PRSRLS-04-12-2007-00.html
Press Release: 4th Dec 2007, Tuesday, 21st Maghar (Samvat 539 Nanakshahi)
SIKHS WILL HAVE PRAYER ROOM FACILITIES AT JFK AIRPORT
Queens, New York – At a meeting convened last week for the Sikh community, by New York City Assemblyman, Rory Lancman, the Port Authority has agreed to provide prayer facilities for Sikhs at the John F Kennedy Airport in New York.
The meeting was attended by Susan Baer, Gen Manager, Aviation, JFK airport, and Jerry Spampanato, Deputy General Manager, Aviation, JFK, who both agreed that there was a need for a prayer room for Sikh travelers.
The participation of Sikhs at the meeting, which took place on November 30th at the Chapel Museum Hall at John F. Kennedy Airport's Terminal 4, was coordinated by Amarjit Singh, UNITED SIKHS' Multifaith Coordinator.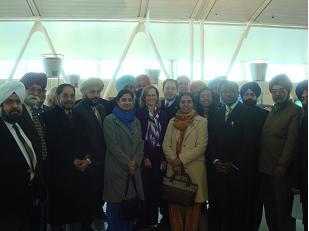 Assemblyman Rori Lancman, Chief of Staff Diane Barett, UNITED SIKHS Rep: Balbir Kaur and Arvind Kaur , Assemblyman Titus and other Sikh leaders who attended the meeting.
Assemblyman Lancman, who has a large Sikh population in his constituency of 25th District, Queens, said, "The Sikh community is a growing population in Queens, and many Sikhs go back and forth to India quite regularly. Sikhs travelers deserve a place to worship at JFK airport alongside those currently set aside for other faiths, and I am very pleased that the Port Authority has committed to work with the community to obtain this goal."
Balbir Kaur, Community Services Director of UNITED SIKHS, said, "Most airports have "meditation rooms" used for prayers by passengers. We are very pleased that the Port Authority recognizes the need for prayer facilities for the Sikhs."
"We hope that other Port Authorities in the country will also accommodate the need for prayer facilities for Sikhs traveling through other airports," she added.
"The Queens area of New York has received a large number of Sikh migrants for many decades and the JFK airport is a hub for Sikh travelers. Therefore the Port Authority's accommodation of Sikhs' needs is a step in the right direction," said Avtar Singh Pannu, President of the Sikh Cultural Society. Gurdwara, Queens, which is the oldest Gurdwara (Sikh place of worship) in the East Coast of USA.
"Currently there are 4 prayer rooms at JFK airport – for Catholics, Protestants, Jews and a multifaith room. The Port Authority has agreed to subdivide the existing multifaith prayer room to cater for the needs of Sikh travelers, said Arvind Kaur, UNITED SIKHS EduCare center coordinator
"It will take more than a fortnight for the Port Authority to finalize their plans," said Diane Barrett, Assemblyman Lancman's Chief of Staff, who also attended the meeting.
Also present at the meeting last week were Assemblywoman Michele R. Titus (D-Queens, 31st Assembly District) and representatives from Congressman Gregory Meeks' (from 6th District of New York) office.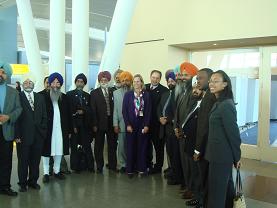 The following Sikhs comprised the delegation at the meeting:
Gurdwara Sikh Cultural Society Richmond Hill was represented by Rajinder Singh Lalli (Chairman) Avtar Singh Pannu (President) and Raghbir Singh (G en.-Secy.); Gurdwara Mata Sahib Kaur, Glen Cove was represented by Giani Jagtar Singh Jachak and Gurcharan Singh Bhasin, UNITED SIKHS was represented by Balbir Kaur, Arvind Kaur and Amarjit Singh; Gurdwara Baba Makhan Shah was represented by Himmat Singh and Jarnail Singh; Dhan Dhan Baba Buddha Sahib Sikh Association was represented by Avtar Singh (President), Tarlochan Pal Singh, Davinder Singh Boparai, Avtar Singh, Gurdial Singh Kang, Buta Singh, Harjinder Singh Duggal, Gurmej Singh, Dhan Singh Harbachan Singh (Ex.-UN) and Rajinder Singh Khalsa (President Sikh Recognition Trust).

You may read a previous report on UNITED SIKHS' initiatives for community rights at http://unitedsikhs.org/PressReleases/PRSRLS-04-12-2007-00.htm.
Issued by

Mankanwal Singh
Director
UNITED SIKHS
---
Our Mission
To transform underprivileged and minority communities and individuals into informed and vibrant members of society through civic, educational and personal development programs, by fostering active participation in social and economic activity.
UNITED SIKHS is also an avenue for networking between like-minded organisations to establish and nurture meaningful projects and dialogues - whether social, cultural or political- to promote harmony, understanding and reciprocity in our villages, towns and cities.
UNITED SIKHS is a coalition of organisations and individuals, who share a common vision based on the belief that there is no greater endeavour than to serve, empower and uplift fellow beings. The core of our philosophy is an unwavering commitment to civic service and social progress on behalf of the common good.
Accordingly, UNITED SIKHS has sought to fulfil its mission not only by informing, educating and uplifting fellow beings but also by participating in cross-cultural and political exchanges to ensure that the promises and benefits of democracy are realized by all.
We at UNITED SIKHS believe that the development of enlightened and progressive societies can be made possible by socially conscious groups of people who make a commitment to develop and direct human potential. Our work, efforts and achievements stand as a testament to our faith in this vision.