Please Get Involved, Click here and Join UNITED SIKHS
To receive forthcoming bulletins join our UNITED SIKHS Yahoo group
To donate go to www.unitedsikhs.org/donate
This Press Release may be read online at: http://www.unitedsikhs.org/PressReleases/PRSRLS-03-08-2009-00.htm
Press Release: 4th Aug 2009, 20th Saavan (Samvat 541 Nanakshahi )
Press Release
Kalyan Singh Speaks About His Experience After Being Kidnapped by the Taliban from Orakzai Agency.
UNITED SIKHS provides Aid to the IDPs in Peshawar

Peshawar- NWFP, Pakistan: UNITED SIKHS continues to provide essential commodities to families who were displaced by the ongoing conflict on the western border of Pakistan.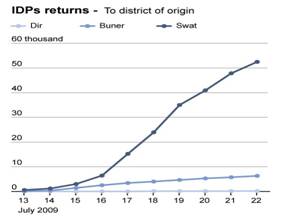 Courtesy: UN OCHA report as of July 2009
The situation is changing every day and so are the needs of the people as they start to return back to their homes. Approximately 35% of the Sikh families who were housed at the Panja Sahib Gurdwara Internally Displaced Persons (IDP) camp have returned to their homes. There is a large gap in the availability of a trained health workforce, and adequate medicine, equipment, supplies and ambulances for IDPs in areas of return. The current situation is exacerbated by the already stretched health services, particularly in terms of prenatal care, assisted deliveries and emergency obstetric care, in the hosting districts, mainly due to a shortage of female medical staff, equipment and supplies. Dr Suran Singh, the IDP camp co-ordinator at Panja Saheb, said, "The families are returning to their homes that are broken or their goods stolen with no sight of jobs and business'. Also the monsoon floods have made the following regions: Charsadda, Peshawar, D.I. Khan, Swat, Mardan, Nowshera, Lower Dir, and Buner prone to flash-floods, landslides and heavy rains. The situation is very fluid and dynamic."
UNITED SIKHS Volunteer, Herdyal Singh, attended the general coordination meeting in Islamabad, where all the UN OCHA agencies of which UNITED SIKHS is a member, participated and presented the problems faced by the Sikh families in Peshawar who still haven't gotten IDP status. Commenting on the issue, Jaspreet Singh, Staff Attorney, UNITED SIKHS, stated, "Our legal team is working in conjunction with our volunteers in Pakistan to ensure that these displaced Sikhs get the status recognized as Internally Displaced People, by the UNHRC and the Pakistani Emergency Response Unit Team."
Sant Singh, who is still in the IDP camp at Panja Saheb said, "My family and I will leave in a few days but I don't know what's in store for our future. We need to assess the situation of our homes and will require assistance in rebuilding our lives."
ATTENTION
Watch Kalyan Singh speak out of his kidnapping by the Taliban.
Click here
For the latest current needs of the IDPs please
Click here
Donate by clicking
here
or by posting a check to a UNITED SIKHS office nearest to you.
The Sikhs living in Peshawar, especially from the Kurram Agency and those from Orakzai Agency continue to live in Peshawar and are not yet ready to go back to their regions. UNITED SIKHS is advocating for them to get IDP status as well.
Situation Overview: Since 13th July, 2009, IDPs have been returning to their communities from IDP camps in Swabi, Mardan, and Charsadda Districts to Buner, southern Swat and partly to the Dir District. As of 22nd July, 2009, the Pakistani Government's Emergency Response Unit (ERU) reports that over 412,000 IDPs - or almost 59,000 families - have returned to their homes, the majority to the southern Swat District, and to the Buner District. According to the Government, approximately 80 percent of those displaced from Buner have now returned. Military operations continue in parts of Swat, Buner and Upper and Lower Dir districts. The United Nations Office for the Coordination of Humanitarian Affairs (UNOCHA) stated that the next phase of the returns process includes the return of over 208,000 IDPs currently occupying almost 4,040 schools. Ramadan commences in the last week of August and may act as a push factor to return home by the second week of August.

UNITED SIKHS distributed one week's worth of rations for the 26 displaced families in Peshwar, and medicines for one month. Commenting on the medical condition of the IDPs, Dr. Saroop Singh stated, "The diseases the IDPs that have come from the tribal regions are suffering from include diarrhea, dysentery, anemia, and Hepatitis C. We thank UNITED SIKHS for providing the medicines for one month, and food rations and hope that we can get further assistance in resettling the lives of these IDPs."
Medicines for IDPs being received by Dr Saroop at Bhai Joga Singh Gurdwara dispensary

Baba Ji Harbajan Singh from KurramAgency receiving aid

Kirpal Singh from Kuram
Agency receiving Aid

Mehtab Singh from Kuram
Agency receiving Aid

Kalyan Singh from Orakzai
Agency receiving Aid

Bhagat Singh from Orakzai
Agency receiving Aid

Son of Didar Singh receiving from Kuram Agency receiving Aid

Charan Singh from
Orakzai Agency

Son of Darshan Singh from
Orakzai Agency receiving Aid

Brother of Jaspal Singh from
Orakzai Agency receiving Aid

Uttam Singh from Orakzai
Agency receiving Aid

Brother of Sarbeel Singh from
Orakzai Agency receiving Aid

Family member of Bhai Sardar Singh from Orakzai Agency receiving aid
UNITED SIKHS is currently looking for volunteers, especially in the field of medicine.
For a previous press release on UNITED SIKHS Pakistan IDP efforts, please visit: http://www.unitedsikhs.org/PressReleases/PRSRLS-26-06-2009-00.htm.
Issued by:
Gurvinder Singh
Director, UNITED SIKHS
contact@unitedsikhs.org
---
WE ARE DOING EVERYTHING WE CAN, BUT WE NEED YOUR CONTINUED SUPPORT!
PLEASE DONATE GENEROUSLY; HOWEVER, NO AMOUNT IS TOO LITTLE.
You can help those affected by countless crises around the world each year by making a financial gift to the UNITED SIKHS, which will provide immediate relief and support to those in need. Call 1-888-243-1690 for more information. Contribute to UNITED SIKHS through local chapter in your country http://unitedsikhs.org/contact.php . Internet users can make a secure online contribution by visiting http://unitedsikhs.org/donate.php . If you wish to designate your donation to a specific disaster please do so at the time of your donation.
---
Our Mission
To transform underprivileged and minority communities and individuals into informed and vibrant members of society through civic, educational and personal development programs, by fostering active participation in social and economic activity.
UNITED SIKHS is also an avenue for networking between like-minded organisations to establish and nurture meaningful projects and dialogues - whether social, cultural or political- to promote harmony, understanding and reciprocity in our villages, towns and cities.
UNITED SIKHS is a coalition of organisations and individuals, who share a common vision based on the belief that there is no greater endeavour than to serve, empower and uplift fellow beings. The core of our philosophy is an unwavering commitment to civic service and social progress on behalf of the common good.
Accordingly, UNITED SIKHS has sought to fulfil its mission not only by informing, educating and uplifting fellow beings but also by participating in cross-cultural and political exchanges to ensure that the promises and benefits of democracy are realized by all.
We at UNITED SIKHS believe that the development of enlightened and progressive societies can be made possible by socially conscious groups of people who make a commitment to develop and direct human potential. Our work, efforts and achievements stand as a testament to our faith in this vision.