Please Be Involved, Click here and Join UNITED SIKHS
To receive forthcoming bulletins join our UNITED SIKHS Yahoo group
To donate go to www.unitedsikhs.org/donate
This Press Release may be read online at: http://www.unitedsikhs.org/PressReleases/PRSRLS-01-06-2006-00.htm
Press Release: Friday 2nd June 2006, 19 Jayth (Samvat 538 Nanakshahi)
Sikhs Lobby MEPs Against Turban Ban After Refusing to Remove Kirpan to Enter EU Parliament
Sikh Kirpan-Wearers Not Allowed to Enter European Parliament on Sikh Lobby Day
Brussels , Belgium - Sikhs remained in high spirits as they continued to lobby their Members of European Parliament (MEPs) after they were prevented from entering the European parliament for refusing to remove their Kirpan. This happened on Wednesday during the first Sikh Lobby Day at the European Parliament, when hundreds of Sikhs from across Europe had gathered to lobby on a number of issues, including the Right to Turban (RTT) Campaign.
As part of the RTT campaign, UNITED SIKHS handed out 500 letters to MEPs from countries including the UK , Germany , France , Hungary and Ireland , highlighting the issues of religious freedom facing European Sikhs. The Sikhs were shocked when they were told they would not be allowed to enter the European Parliament while wearing their Kirpans, despite previous assurances that the Kirpan-wearers would be able to enter the Parliament to meet their MEPs just like every other citizen of Europe .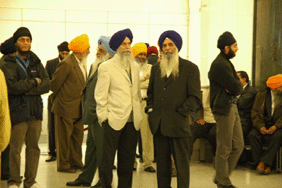 Sikhs Waiting in the EU Parliament Lobby to Meet MEPs after Refusing to Remove their Kirpan
" Sikhs in the UK won their right to wear their articles of faith for more than a generation ago and this incident at the EU parliament should not in any way take us back to square one," said Meerat Kaur, UNITED SIKHS director of International Civil and Human Rights Advocacy.
The Sikhs from France , Germany , Belgium , UK and other European countries, were told by the security staff of the European Parliament that those who were wearing Kirpans would not be allowed to enter the Parliament, despite previous assurances given to the organizers of the day, The Sikh Federation, that at least 120 delegates would be allowed entry with their Kirpans. Despite the intervention by various MEPs, the security staff remained adamant that they would not allow entry to such large numbers of Kirpan-wearing Sikhs. Eventually after a number of hours, only 12 Kirpan-wearing Sikhs were allowed entry, whilst the rest waited in the lobby of the Parliament.

Belgian Sikh School Boys at the EU Parliament to Highlight their School's ban on their Patka
Addressing a Sikh delegation, Sajjad Karim MEP stated, "I must say at the very least you deserve an apology for what happened to you and how you were treated today. It is shocking. Next time, we will ensure this does not happen again". MEP Nina Gill of the UK told the Sikhs present that she had informed the security of the large number of Sikhs arriving on Wednesday, and that many of them would be wearing Kirpan. She had asked all security staff to be informed and for there not to be any problems.
Since the Sikhs were not allowed to enter, MEPs came to meet the Sikhs in the Parliament lobby, and later at a local restaurant, to hear their concerns about issues in Europe and India . Sikhs from France and Belgium highlighted their concerns over discrimination they were facing in light of the ban on the turban. UNITED SIKHS interviewed two boys from Belgium who were expelled from school for their refusal to remove their Patka.
Gurdial Singh from the French Action Committee for the Turban stated "at least for next time awareness has been raised about Sikhs and Sikhi, and the fact that we cannot and will not ever compromise our faith. At least they now know that if we won't remove our Kirpans to enter an institution like the European Parliament, we will never remove our turbans."
To read a previous Press Release on UNITED SIKHS' advocacy for Sikh religious rights in France please click http://unitedsikhs.org/PressReleases/PRSRLS-10-04-2006-00.htm
Issued by:
Meerat Kaur
Director
International Civil and Human Rights Advocacy
UNITED SIKHS

---
Our Mission
To transform underprivileged and minority communities and individuals into informed and vibrant members of society through civic, educational and personal development programs, by fostering active participation in social and economic activity.
UNITED SIKHS is also an avenue for networking between like-minded organisations to establish and nurture meaningful projects and dialogues - whether social, cultural or political- to promote harmony, understanding and reciprocity in our villages, towns and cities.
UNITED SIKHS is a coalition of organisations and individuals, who share a common vision based on the belief that there is no greater endeavour than to serve, empower and uplift fellow beings. The core of our philosophy is an unwavering commitment to civic service and social progress on behalf of the common good.
Accordingly, UNITED SIKHS has sought to fulfil its mission not only by informing, educating and uplifting fellow beings but also by participating in cross-cultural and political exchanges to ensure that the promises and benefits of democracy are realized by all.
We at UNITED SIKHS believe that the development of enlightened and progressive societies can be made possible by socially conscious groups of people who make a commitment to develop and direct human potential. Our work, efforts and achievements stand as a testament to our faith in this vision.