| | |
| --- | --- |
| 28 June 2005 | Harh 14, 537 Nanakshahi |
UPDATE: Arrest Made in Davinder Singh Case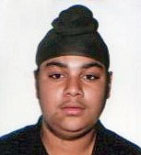 Davinder Singh,
threatened and assaulted.
Richmond Hill, New York - The NYPD have made an arrest in the Davinder Singh case, bringing it one step closer to final justice. As reported earlier, 15-year-old Davinder Singh of Bayside High School was called a "terrorist" by Mr. Donald Wiggins, the father of one of Davinder's classmates, who also made threats against Singh and his family's life before physically assaulting him (details of the case may be found in a previous Community Voice). Earlier the NYPD 111th precinct captain, Mr. Pilkington had closed the case because there was "not enough evidence". But after UNITED SIKHS intervention, the case was reopened and Mr.Wiggins was arrested today on charges of 'Assault in the Third Degree, Endangering the Welfare of a Child and Harassment in the Second Degree'.
Charge sheet Page 2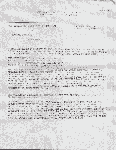 Charge sheet Page 1
UNITED SIKHS Program Officer, Arvind Kaur, had previously met with school officials and Davinder Singh's family to ensure his safety at school, and then pursued the criminal case against Mr. Wiggins regarding the assault. "This will bring us one step closer to closure of this case, and will allow Davinder Singh to continue his normal life putting this terrible incident behind him", said UNITED SIKHS' International Civil and Human Rights Advocacy Program Coordinator, Manvinder Singh, after hearing of Wiggins' arrest. UNITED SIKHS wishes to thank the NYPD, especially Detective Gilbert, for his cooperation in the case and hopes that the NYPD will continue its efforts to curb the hate crimes that are occurring against members of the Sikh community. UNITED SIKHS would also like to thank Baldev Singh Garewal, Editor of Sher-e-Panjab, who informed us of the case, the family of Davinder Singh, Captain Thomas Pilkington of 111th Precinct, and Mr. Matt Simeone, Community Affairs, Nassau County and the District Attorney's office, for assisting us in this endeavor to deliver justice.
If you or anyone you know has been a victim of a hate crime, discrimination or harassment due to him/her being a member of the Sikh religion, please call us at 1-888-243-1690 or e-mail us at contact@unitedsikhs.org
---
Our Mission
To transform underprivileged and minority communities and individuals into informed and vibrant members of society through civic, educational and personal development programs, by fostering active participation in social and economic activity.
UNITED SIKHS is also an avenue for networking between like-minded organisations to establish and nurture meaningful projects and dialogues - whether social, cultural or political- to promote harmony, understanding and reciprocity in our villages, towns and cities.
UNITED SIKHS is a coalition of organisations and individuals, who share a common vision based on the belief that there is no greater endeavour than to serve, empower and uplift fellow beings. The core of our philosophy is an unwavering commitment to civic service and social progress on behalf of the common good.
Accordingly, UNITED SIKHS has sought to fulfil its mission not only by informing, educating and uplifting fellow beings but also by participating in cross-cultural and political exchanges to ensure that the promises and benefits of democracy are realized by all.
We at UNITED SIKHS believe that the development of enlightened and progressive societies can be made possible by socially conscious groups of people who make a commitment to develop and direct human potential. Our work, efforts and achievements stand as a testament to our faith in this vision.