Community Voice
26th December 2007
13th Poh (Samvat 539 Nanakshahi)
Californian Alumnus Addresses Delhi Students at a Learning Values Programme
New Delhi: After the success of two Learning Values programmes, UNITED SIKHS organised another event on 14 December, 2007, at S. S. Mota Singh Senior Secondary School, Janak Puri, New Delhi. The program was also based on the 'Importance of Turban', for the children of the age group 11-12 years.
The event started at 8:30 a.m. with the welcoming of the Chief Guest, Sdn. Saranjeet Kaur, Principal, S. S. Mota Singh Senior Secondary School and the role models were S. Kanwaljeet Singh a flourishing businessman from California and his son, an alumni of SS Mota Singh School.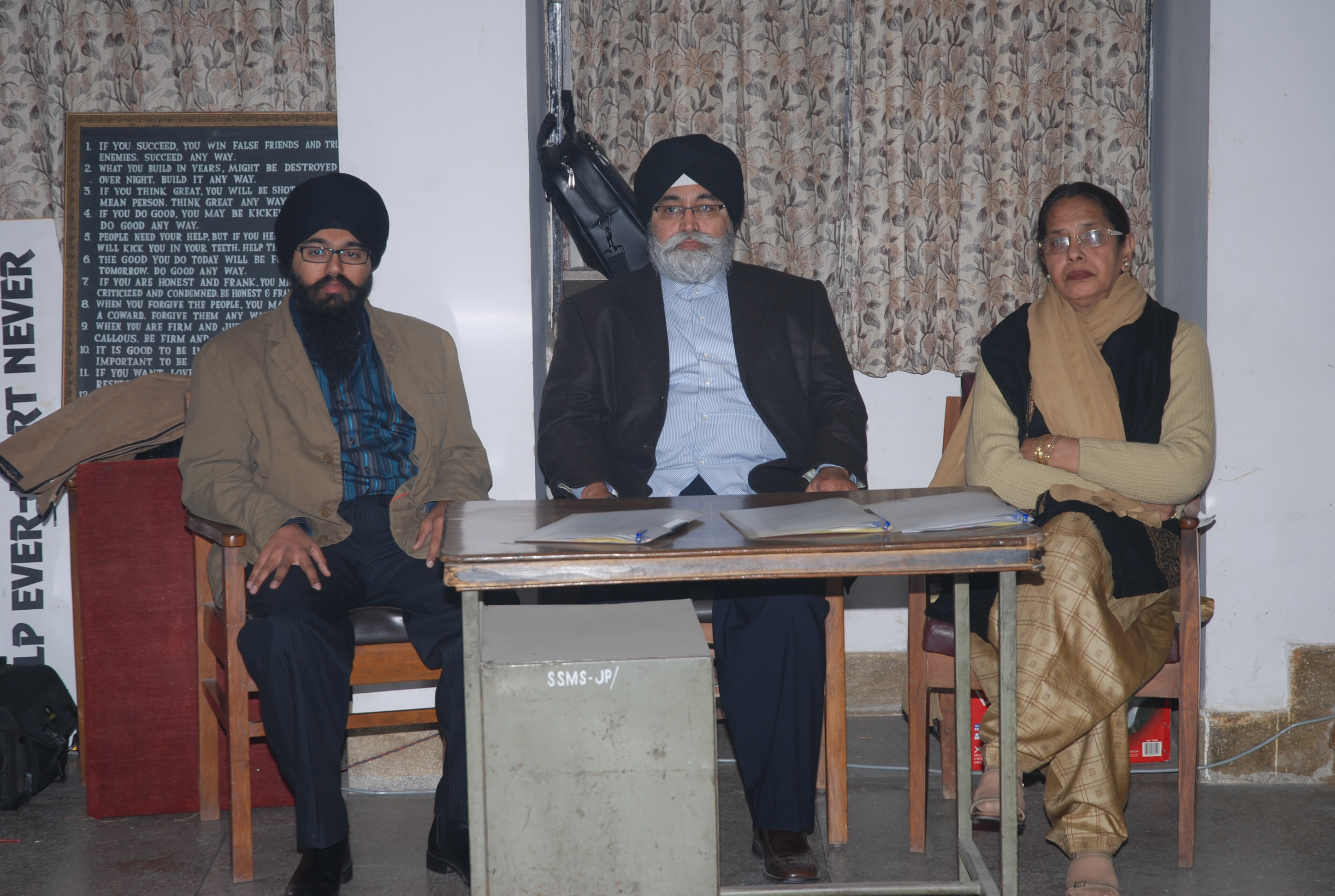 (From left) S. Channpal Singh (son of S. Kanwaljeet Singh), Role Model S. Kanwaljeet Singh and the Chief Guest, Sdn. Saranjeet Kaur
S. Kanwaljeet Singh, a natural orator, shared his views on Sikhism and explained splendidly the importance of wearing a turban. He began by relaying the meaning of the Sikh greeting 'Waheguru Ji Ka Khalsa Waheguru Ji Ki Fateh'. He pointed out that in the early days, only people of high status wore a turban. He said that Guru Gobind Singh Ji, the 10th Sikh Guru, gave Sikhs a unique identity so that they may stand out and stand up in a crowd. He also added, "Turban is not just an identity but pride and self esteem for the Sikhs. The Punjabi idiom relating to paghree, reflects 'Izzat' (dignity). Paghree given to an heir, denotes izzat."
Kanwaljeet Singh's son, S. Channpal Singh, an alumnus of the school, who recently graduated from a Californian University, also shared his experiences with the students relating to them the challenges he faced in being a Sikh loner and how he maintained his 'Sikhi' despite the difficulties. His heart-felt speech left a lasting impression on everyone's mind.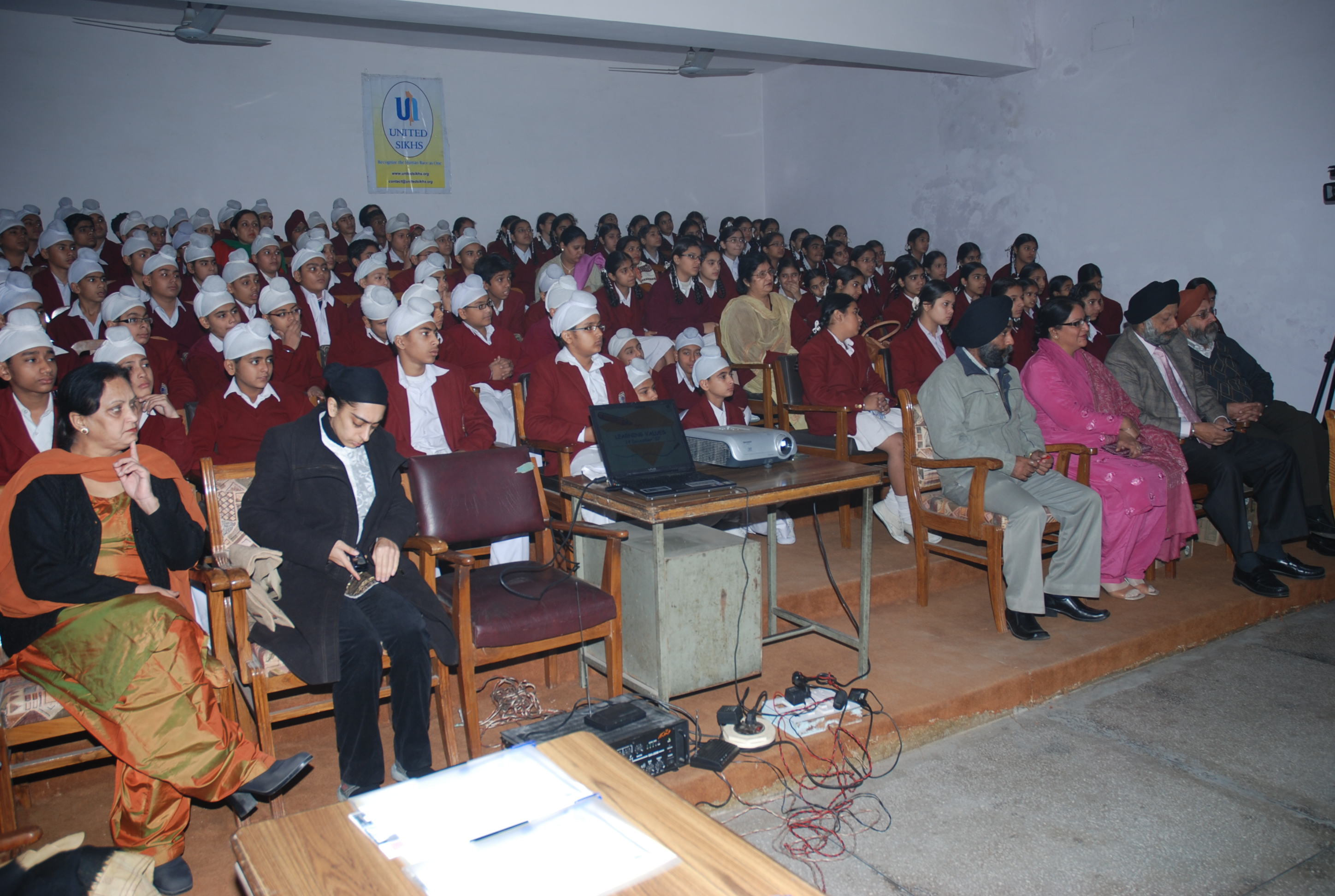 Students listening to the role model, S. Kanwaljeet Singh
The chief guest, Sdn. Saranjeet Kaur, honoured the role models with momentos and UNITED SIKHS' CDs on the Recitation of Japji Sahib, Rehraas Sahib and Sohila.
A Presentation titled 'Turban- The Proud Heritage', was led by UNITED SIKHS volunteer, Harpreet Singh. All the children who took active participation during the slide show were rewarded with chocolates.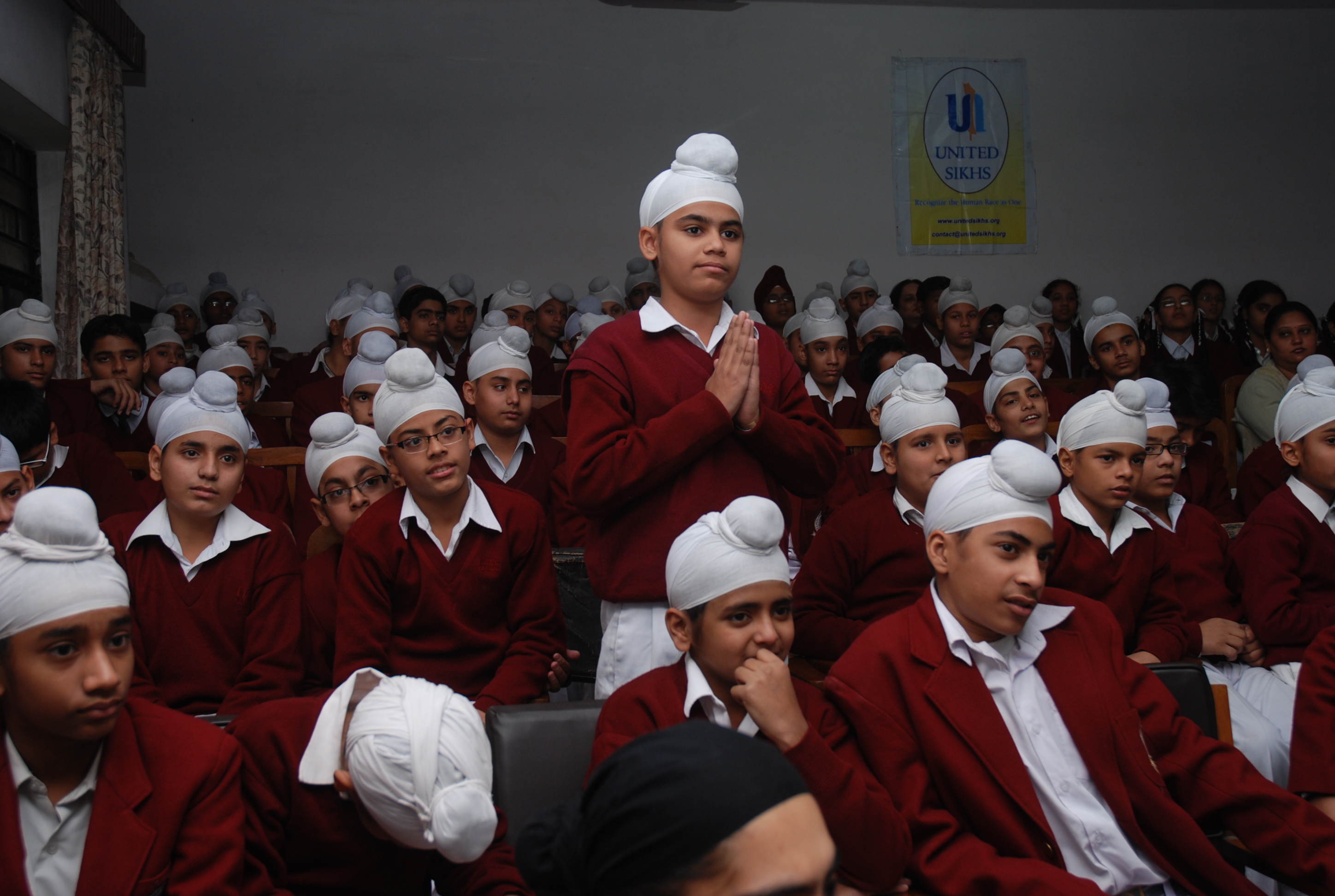 A student asking question during the interactive session
An interactive session in the end, gave students a chance to clarify and further enhance their existing knowledge of their culture and rich heritage. S. Kanwaljeet Singh answered them enthusiastically, and the team encouraged the children who took the initiative to ask questions, with a chocolate and applause.
S. Rajbir Singh ji, PhD Scholar, Indian Institute of Technology (I.I.T.), Roorkee, who had been invited as a role model could not attend the event due to some unavoidable circumstances, also sent a message for the children which said, "I am very happy that UNITED SIKHS has embarked on a highly relevant and important project of discussing with you all, the importance of the Sikh Turban. The turban was a symbol of nobility and social status. Commoners were not allowed to wear a turban at all. In 1699, when the Khalsa was born, the tenth Master gave equality and royalty to us all by allowing all Sikhs to wear a Turban."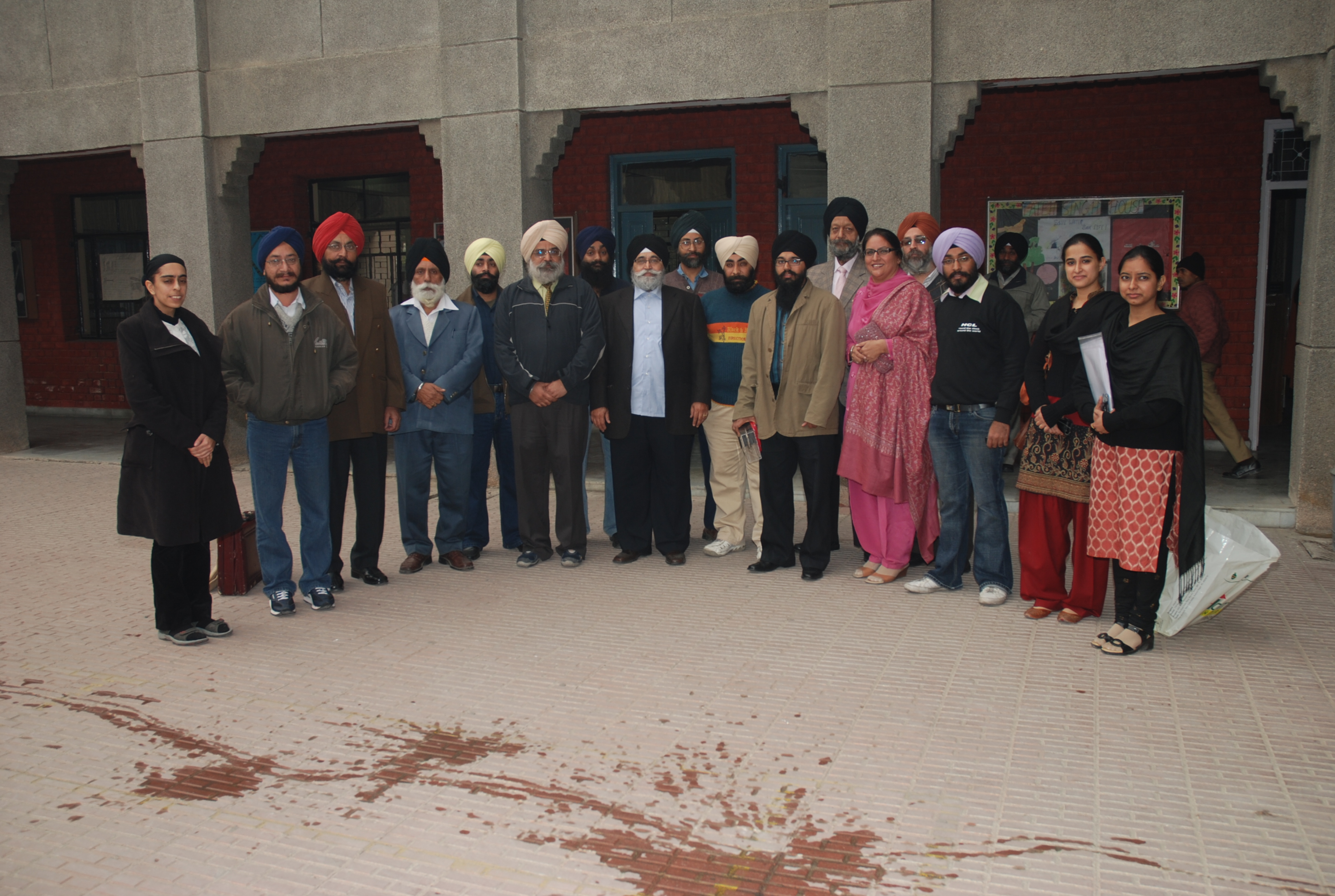 Role Model and the UNITED SIKHS Team
Jotvinder Singh, UNITED SIKHS Communications Consultant said, "It is indeed overwhelming to see the response we get from kids during the Learning Values Series. It is encouraging to see how children raise queries and listen attentively," The Feedback forms we get from these children have a lot of praise and interesting suggestions for our team to improve the programme. "In fact, what we started as an experiment is gradually turning into a proper and formal event of our agenda," he added.
Gurleen Kaur Grover, a student of Class VII D said, "These types of events encourage us and builds our self confidence. Moreover, our knowledge about Sikhism is also enhanced."
Issued by:
Komalmeet Kaur
Project Coordinator
UNITED SIKHS-Asia
Tel: +91-9818096705
---
Our Mission
To transform underprivileged and minority communities and individuals into informed and vibrant members of society through civic, educational and personal development programs, by fostering active participation in social and economic activity.
UNITED SIKHS is also an avenue for networking between like-minded organisations to establish and nurture meaningful projects and dialogues - whether social, cultural or political- to promote harmony, understanding and reciprocity in our villages, towns and cities.
UNITED SIKHS is a coalition of organisations and individuals, who share a common vision based on the belief that there is no greater endeavour than to serve, empower and uplift fellow beings. The core of our philosophy is an unwavering commitment to civic service and social progress on behalf of the common good.
Accordingly, UNITED SIKHS has sought to fulfil its mission not only by informing, educating and uplifting fellow beings but also by participating in cross-cultural and political exchanges to ensure that the promises and benefits of democracy are realized by all.
We at UNITED SIKHS believe that the development of enlightened and progressive societies can be made possible by socially conscious groups of people who make a commitment to develop and direct human potential. Our work, efforts and achievements stand as a testament to our faith in this vision.