| | |
| --- | --- |
| 24 January 2005 | 12th Magh, Nanakshahi |
UNITED SIKHS Continues to Gain Momentum - Sends Another Cargo of Relief Supply and More Volunteers to Campbell Bay
"We'll do 'whatever' it takes for every person out there on Campbell Bay, the devastation is huge, resources are nil over there and the time is running out. It's time to be simply human beings, find whatever our roles may be in this relief effort and play our part of a good person. After seeing the devastation on Campbell Bay, first hand as a team, I know that I am not going anywhere for a while, my conscious won't allow it. We've been through a lot in the past few days, physically and mentally, but the team continues to push through, day in and day out. Today, has however been a wonderful one for the team, we have broken through another day filled with road blocks and bureaucracies, but as a team, have managed to load another 6 tons of shipment to Campbell Bay. The team morale is super high and we are in Chardikala (rising spirits)", said Navneet Singh, Team Leader for Indian relief efforts.
Joravar Singh, team volunteer from UK expressed, "I feel great, it took us over 14 hours to ensure the safety and proper delivery of this shipment, we haven't had any food or have stopped a second to sit downn all day, but I tell you honestly, it feels great. It was total organized teamwork from all angles, even though my head, arms, and my back hurts but I know that my mind feels super".
The UNITED SIKHS team is a coalition of organizations and individuals, who share a common vision based on the belief that there is no greater endeavor than to serve, empower and uplift fellow beings. Today's results were truly a result of that coalition that UNITED SIKHS has built here on the mission. It's been over two plus weeks since UNITED SIKHS has been deep into the Tsunami relief effort in South India and A&N Islands. They have not only garnished trust from the local organizations but have built a coalition with trusted organizations all over India.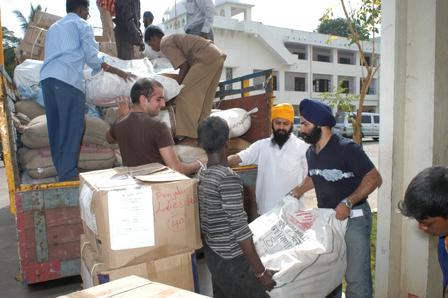 Photograph.
The UNITED SIKHS team loads the shipment for Campbell Bay.
The team, with the help of Guru Nanak Sat Singh Sabha, the Chennai Sangat Gurdwara Sahib, loaded the entire shipment to the lorries and trucks and then worked together to unload that to the ship. UNITED SIKHS thanks the entire Chennai Sangat for all the support they have shown and continue to shower to help the team in their entire relief efforts.
The UNITED SIKHS team has joined hands since the beginning and been working with humanitarian organizations and Gurdwara Sahib Associations from all over the country. There are approximately 15 other organizations from Bangalore, Bombay, Hyderabad, Delhi, Amritsar etc. that have come together under the banner of "Guru Nanak Sarbat Sikh Sangat" and UNITED SIKHS has been on the forefront - at every step. These same very organizations have also been instrumental in working with the UNITED SIKHS team and in gathering the requested shipments, such as Turbans, Kacheras, Atta, Daal, Sugar, etc. for victims at Campbell Bay.
"We realize the value that UNITED SIKHS as a team provide to this entire effort. We are happy to have their organized team who share their passion and have come from so far to help the affected people." said Inder Singh Sethi, Gen Secretary Guru Nanak Sat Singh Sabha, Chennai and Prime Member, Guru Nanak Sarbat Sikh Sangat.
Only two days ago, the very honorable, Bibi Inderjeet Kaur of All India Pingalwara Charitable Society joined hands with UNITED SIKHS, and announced in the press conference that "The All India Pingalwara Charitable Society is very excited to be teaming up with UNITED SIKHS. We assure our full support at every step of the UNITED SIKHS Tsunami relief mission. All India Pingalwara Charitable Society will use its infrastructure, resources and goodwill to raise funds plus continue to gain trust by using it in the most honest, appropriate and efficient manner. We are starting this special project with ethical and moral blessings of Bhagat Puran Singh Ji and we are sure that he would support our work in this cause of humanity."
The UNITED SIKHS team leader is in touch with Baljit Singh Mann, administrator for All India Pingalwara Charitable Society on a daily basis to arrange for special items for relief for A&N islands such as baby food, diapers, clothes, baby medications, women's personal, hygienic and medication needs. There's another shipment leaving tomorrow morning from Pingalwara for Chennai. The UNITED SIKHS team continues to bridge the gaps by staying in constant and consistent communication with all of its partners.
Special permission was gathered yesterday to load the shipment on the Indian Naval Services ship called "Gharial" that will take the shipment to Campbell Bay. Additionally, the UNITED SIKHS team has deployed its next set of volunteers to get on the island and help out with the long term relief there.
"I must thank the Deputy Director, (Shipping Services) for Andaman Administration, Mr. Jagdish Narayan Rao, who has been kind enough to help the team in the shipment over to the islands. He has helped four of the UNITED SIKHS team members get on the next ship today to the Islands." expressed Navneet Singh.
The UNITED SIKHS volunteers that left today were indeed special. The team comprised of Judge Singh (California, USA) who is an experienced General Contractor and has multiple years of reconstruction and rebuilding. He has been selected especially by the UNITED SIKHS team for his long term commitment and for his specialized skill in the rebuilding efforts. He is prepared and has brought many bags full of specialized tools for the reconstruction of homes and buildings for all those that have lost. He will be our project coordinator for re-building homes in the Campbell Bay area for the 70 affected Sikh families.
Along with Judge Singh, is a young man from Midland, UK - Joravar Singh. He has a lot of energy and enthusiasm in the team and creates a positive outlook on the mission. He brings his heart everyday to do sewa and the team plans to use his organizational skills from his call center manager duties.
Major Santokh Singh, representative of the Pingalwara Society, has joined the team on ship to work hand in hand with UNITED SIKHS and bring his military experience for getting things done plus use his defense services credit to make the relief mission a bit simpler.
Team Leader Navneet Singh will stay back to continue to manage UNITED SIKHS hub in Chennai. "There's a need to manage shipments, buy and organize the relief material and build the team up for our next move" he said.
UNITED SIKHS is the first, NGO on Campbell Bay islands, and was instrumental in diverting the SGPC's cargo to the island. The shipment sent last week has been received and Guru Ka Langar has already started on Campbell Bay island.
"On the overall, we have seen the situation first hand in Campbell Bay and have pictures and videos that no one else can claim to have."My heart aches to see our fellow Sikh brothers and sisters in this condition. They have lost everything, no food, no clothes, no homes, no support, no hope, absolutely nothing. I saw an elder lady crying during the interview, she reminded me of my grandmother who passed away last week, and I couldn't control myself. I am sorry to say but whatever others may say, cosmetic touches and short term help is not going to do it here. It's not enough" said Navneet Singh.
Understand, that there's a lot of emotional and psychological trauma and there is a need for spirit upliftment. If these people are not given long term hope and assistance, they will commit suicide, they will die. As long as we as an organization are concerned, UNITED SIKHS is here to stay and will be there on their side till the last possible moment" he added.
---
UNITED SIKHS will update you as we receive reports. For Relief Team updates see:
http://www.unitedsikhs.org/ghanaia/fieldreport.html
---
Please donate, even if you cannot give a lot. Your contribution will help victims directly.
http://www.unitedsikhs.org/reliefproject.html#donate
You may donate online by clicking above, or by cheque payable to UNITED SIKHS, and mail to a UNITED SIKHS regional office.
---
For more information on the GHANAIA tsunami project, e-mail us on:
contact@unitedsikhs.org
---
Our Mission
To transform underprivileged and minority communities and individuals into informed and vibrant members of society through civic, educational and personal development programs, by fostering active participation in social and economic activity.
UNITED SIKHS is also an avenue for networking between like-minded organisations to establish and nurture meaningful projects and dialogues - whether social, cultural or political- to promote harmony, understanding and reciprocity in our villages, towns and cities.
UNITED SIKHS is a coalition of organisations and individuals, who share a common vision based on the belief that there is no greater endeavour than to serve, empower and uplift fellow beings. The core of our philosophy is an unwavering commitment to civic service and social progress on behalf of the common good.
Accordingly, UNITED SIKHS has sought to fulfil its mission not only by informing, educating and uplifting fellow beings but also by participating in cross-cultural and political exchanges to ensure that the promises and benefits of democracy are realized by all.
We at UNITED SIKHS believe that the development of enlightened and progressive societies can be made possible by socially conscious groups of people who make a commitment to develop and direct human potential. Our work, efforts and achievements stand as a testament to our faith in this vision.