Please Be Involved, Click here and Join UNITED SIKHS
To receive forthcoming bulletins join our UNITED SIKHS Yahoo group
To donate go to www.unitedsikhs.org/donate
This Community Voice may be read online at: http://www.unitedsikhs.org/PressReleases/COMVCE-23-03-2007-00.htm
Community Voice
23th March 2007
10th Chet 538 Nanakshahi
Sikhs Promote Fitness and Charity in a 5K Run near Atlanta
Alpharetta, Georgia, USA – For the first time as a community, a jattha (team) of six Sikhs (Kaurs and Singhs) participated in a 5K Fun Run held in Alpharetta, Georgia. The Sikhs for Fitness team of the UNITED SIKHS joined the St. Francis School of Georgia to participate in the event which was organized to support a worthy cause- the children's foster home of Georgia.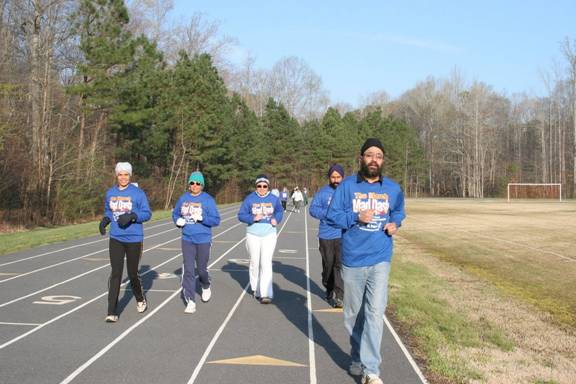 L to R:Gurmeet Kaur, Kamal Kaur, Harsharan Kaur, Raminder Singh, Hardeep Singh: Pix by Manmohan Singh
It was the first 5K run in the USA for all the Sikh runners. All of the participants were in their 30s and 40s and had forgotten the thrill of running long distance. Hence the 5K Fun Run was a good motivation for the community.
The morning of the 5K Fun Run was a chilly one. The temperatures dropped unexpectedly due to a cold wind moving from the northeast. Atlantans are not used to 30˚F and cold winds in mid-March. However, each of the Sikh runners completed the race and one won the second place (call it beginner's luck or attribute it to the weather)! The three Singhs were generous enough to let the three Kaurs finish ahead of them.
Initially, the organizers of the 5K Fun Run worried if the participants would show up since many children were already sick due to a strep and viral fever affecting the town. Fortunately, about 70-100 people turned up for the run. UNITED SIKHS organizers were also worried about the possibility of the Sikh volunteers cancelling or not appearing. While many did cancel, it was significant that at least five Sikh volunteers showed up. It was a jattha and thankfully more than five participated. More so, the jattha was well received by the organizers and was appreciated by those who were grateful for our support of the cause.
We accomplished 4 goals by being a part of the event:
| | |
| --- | --- |
| 1. | Raised money for foster home children ; thus extending our Sewa spirit to main stream USA communities |
| 2. | Promoted the spirit of fitness. Realized that we are not half as lethargic as we may have thought and if we put our spirit and body up to it, we can run and have fun. |
| 3. | Increased the visibility of Sikhs. When we ran with our Dastars, long gutts (braids) and covered hair, we showed the hundreds of organizers and participants that Sikhs are mainstream USA citizens. We stand with everyone on helping our communities. We are fun and not to be feared or discriminated against. |
| 4. | Got together as a community in a fun environment outside of the Gurdwara, helping and encouraging each other to be proactive in such areas. Activism is the name of the game for Sikhs. |
Atlantans, please keep your eye out for the next event coming up in May. Sikhs in other areas, please be proactive and organize such events in your community. Encourage your young ones to start participating in such activities, to believe in themselves, and to get a head start in fitness.
For more information on how to get started please contact:
gurmeet.kaur@unitedsikhs.org or call 678.232.6780

To read a Press Release on a previous project by UNITED SIKHS please see: http://unitedsikhs.org/PressReleases/PRSRLS-02-09-2006-00.htm
Issued by:
Gurmeet Kaur
Sikhs for Fitness Project Coordinator
UNITED SIKHS
Phone: 1-888-243-1690
---
Our Mission
To transform underprivileged and minority communities and individuals into informed and vibrant members of society through civic, educational and personal development programs, by fostering active participation in social and economic activity.
UNITED SIKHS is also an avenue for networking between like-minded organisations to establish and nurture meaningful projects and dialogues - whether social, cultural or political- to promote harmony, understanding and reciprocity in our villages, towns and cities.
UNITED SIKHS is a coalition of organisations and individuals, who share a common vision based on the belief that there is no greater endeavour than to serve, empower and uplift fellow beings. The core of our philosophy is an unwavering commitment to civic service and social progress on behalf of the common good.
Accordingly, UNITED SIKHS has sought to fulfil its mission not only by informing, educating and uplifting fellow beings but also by participating in cross-cultural and political exchanges to ensure that the promises and benefits of democracy are realized by all.
We at UNITED SIKHS believe that the development of enlightened and progressive societies can be made possible by socially conscious groups of people who make a commitment to develop and direct human potential. Our work, efforts and achievements stand as a testament to our faith in this vision.