Community Voice
Tuesday, 20 September 2005
6 Assu (Samvat 537 Nanakshahi)
Katrina Evacuees Relate their Losses to UNITED SIKHS GHANAIA Volunteers
Baton Rouge, LA:
The colossal damage unleashed by hurricane Katrina tousled lives of New Orleans residents rendering them helpless against the gigantic force of Mother Nature. UNITED SIKHS volunteers have been speaking to evacuees in the shelter homes where the volunteers have been serving them hot meals since a fortnight ago. UNITED SIKHS has also started to collate reports on the losses suffered by Sikh families in the affected areas.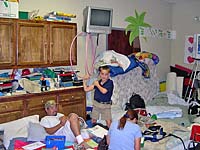 Joseph and Cheryl in a Shelter Home.
Cheryl, 30, a resident of Sesuzi Park, Saint Bernard, LA, told UNITED SIKHS director, Kuldip Singh. that 26 of her family members are currently in the Dream Centre shelter home, Donaldsonville, LA, where UNITED SIKHS is serving hot meals to evacuees. Her family and relatives lost 8 homes in the neighborhood. "I evacuated my home with the rest of the family on 30th August morning. My family didn't pack much stuff to take with us thinking we would be back home in a couple of days. Now it's over two weeks in a shelter home. I lost everything," she said. Her husband Sr. Joseph Naquin, who worked in dock port, said water rose 14 feet high and damaged the entire building. He wants to go back to work but has no place to stay. Cheryl and Joseph have neither home insurance nor enough money to repair the damaged home. They have three children 11, 9, and 7 years old. They are depending on FEMA to help them out. UNITED SIKHS volunteers explained the FEMA guidelines to them and helped them to fill out the required applications.
There are similar stories in every shelter home. People lost everything that they had. Some lost family members some lost property. One thing is common in most of them that they all want to go back to the same place which has turned into debris and wreckage.
"The Sikh families who were displaced by the hurricane have been staying with friends and family. But it is now time for us to help them re-locate to their homes and help them recover from the losses they have suffered. We also have to help repair the Gurdwara Sahib which was damaged," said Gurvinder Singh, UNITED SIKHS GHANAIA Katrina project team leader.
"We have started to collate information on the Sikh community's needs in order to make an appropriate response. We need more volunteers to execute the next stage of our work," he added.
UNITED SIKHS volunteers who have been serving Meals, Ready to Eat (MRE) at the Dream Centre, Donaldsonville. Zorawar Singh drove to Baton Rouge from Bakersfield California to volunteer for the GHANAIA Katrina relief effort. "day and night, the tireless work of volunteers is true service to humanity " said Zorawar Singh. The Sikh community of Bakersfield had sent a full load of truck with food and supply which was distributed among shelter homes in Donaldsonville, Napoleonville and Plaquemine. More such loads are expected to arrive from Fremont California this week.
"Due to manpower and storage constraints we appeal to or supporters not to send us any more material supplies but to donate gift vouchers or money so that we may buy supplies locally," said Gurvinder Singh.
UNITED SIKHS has promised to the coordinators of Shelter homes to provide a team of volunteer doctors and health care professional in the coming weeks. Evacuees need immediate medical assistance.
Last week UNITED SIKHS volunteers helped local Sikhs remove an birdh (old ) Sri Guru Granth Sahib Ji (Sikh holy scriptures) and three small saroops from the New Orleans Sikh Gurudwara (place of worship) which were then 'cremated' (Agan Bhet) by local Sikhs as the flood waters had damaged them.
Katrina Hurricane Relief Links
Issued by
Kuldip Singh
Director
UNITED SIKHS
Katrina-project@unitedsikhs.org
Tep 1 404 5508356 (Toll Free: 1-888-243-1690)
---
Our Mission
To transform underprivileged and minority communities and individuals into informed and vibrant members of society through civic, educational and personal development programs, by fostering active participation in social and economic activity.
UNITED SIKHS is also an avenue for networking between like-minded organisations to establish and nurture meaningful projects and dialogues - whether social, cultural or political- to promote harmony, understanding and reciprocity in our villages, towns and cities.
UNITED SIKHS is a coalition of organisations and individuals, who share a common vision based on the belief that there is no greater endeavour than to serve, empower and uplift fellow beings. The core of our philosophy is an unwavering commitment to civic service and social progress on behalf of the common good.
Accordingly, UNITED SIKHS has sought to fulfil its mission not only by informing, educating and uplifting fellow beings but also by participating in cross-cultural and political exchanges to ensure that the promises and benefits of democracy are realized by all.
We at UNITED SIKHS believe that the development of enlightened and progressive societies can be made possible by socially conscious groups of people who make a commitment to develop and direct human potential. Our work, efforts and achievements stand as a testament to our faith in this vision.