Please Be Involved, Click here and Join UNITED SIKHS
To receive forthcoming bulletins join our UNITED SIKHS Yahoo group by emailing PR_UNITEDSIKHS-subscribe@yahoogroups.com
To donate go to www.unitedsikhs.org/donate
Community Voice
Friday, 17th February 2006
6th Phalgun, Nanakshahi 537
UNITED SIKHS TSUNAMI FINANCE AND PROJECT UPDATE
Introduction
On December 26, 2004, the world witnessed one of the deadliest natural disasters in recent history. The Tsunami left millions with shattered lives, hundreds of thousands dead and as many lost homes, schools, businesses and means of livelihood, especially in Indonesia, Thailand, Sri Lanka and India.
While the tsunami left pitiful scenes of death, destruction and suffering, it also saw the outpouring of unparalleled human kindness and generosity. The global concern for the tsunami survivors was overwhelming. UNITED SIKHS decided to be involved under the Sikh Aid programme called GHANAIA (Giving Humanitarian Aid Necessities and Assistance Impartially to All). The GHANAIA tsunami relief project was the spontaneous response of our pioneer volunteers and donors. Once the work started, there was no stopping. We received emails and telephone calls from people who had not heard of us but who wanted to be a part of a team that had braved all odds to be in the eye of the Tsunami aftermath.
For the Sikh community it was the first time that a Sikh humanitarian relief effort had involved the community from all parts of the world. It was proof to the community of its capacity.
Individuals and families donated their time, money and goods to the UNITED SIKHS Tsunami projects, to bring much-needed relief to the tsunami survivors. Our volunteers paid their own fares and took leave from their jobs because as one said "I felt a calling."
This calling took UNITED SIKHS volunteers to travel from the four corners of the world to Aceh, Sri Lanka, South Thailand and South India (Chennai, Andaman and Nicobar Islands). Our concern was not just to hand out 'band-aid' but to provide a future or a hope for a future. It would have been easier to give cash hand-outs and close our projects within a month or two. Instead, after providing immediate relief, we chose to go into community projects whose dividends would be paid in the long term. We sought to identify and address social distortions and deprivation in the affected countries.
In making this choice we were aware that some individual members of the affected community and lay-bystanders would be hard to convince.
We got the courage to make this choice due to the resolve of our volunteers and the trust of our donors. This courage helped us deal with the challenge of working simultaneously in four disaster areas. The biggest challenge was in providing emergency relief and starting developmental projects in Campbell Bay, in the Andaman and Nicobar Islands. Campbell Bay is remote, has limited transportation, there were restrictions on foreign aid agencies as it is an Indian frontier island. Transport by sea had to be prioritised for food. Administrative red-tape, breakdown of two freight ships since the summer and priorities to ship food resulted in delays in transporting a sawmill and ambulance that UNITED SIKHS had purchased for the community in Campbell Bay.
Our Volunteers
Who are our volunteers? Our volunteers are those who know no fear, including one who continued to serve after he had been held at gunpoint in Sri Lanka. One incident related by volunteers was when the villagers in Navaladdy in Sri Lanka had to return to their village for the first time since the tsunami. The survivors feared to return to their village because they were afraid of 'ghosts'. Our volunteers spent the night with them to reassure them all was well. Our volunteers worked hard to handle every difficult situation they came across in the harsh environment of the disaster areas - to accomplish the GHANAIA mission.
Recovery Efforts
Over the subsequent months, UNITED SIKHS has fed thousands of survivors, established community access to water and sanitation services, helped children and their families cope with emotional trauma through psychosocial activities, initiated self-sufficiency programs by setting up a community center which comprises a computer center and sewing center.
After little over a year since the tsunami, this report looks back at our initial response and the transition from emergency relief to long-term recovery work. Tsunami survivors have faced unthinkable tragedy and loss with courage and resilience. Much remains to be done, and we will be there to help. Over the months and years ahead, we will continue working to help the community as they rebuild their lives and re-establish their livelihood. While serving the survivors, we also partnered with different organizations in different countries. By working in a coordinated effort, we were able to deliver immediate services to victims without duplicating effort and expenditure of donated goods and money. Our volunteers were instructed to pay special attention to remote areas and special programs to minimize the duplication of efforts and to maximize the help to the survivors.
In India, UNITED SIKHS distributed relief material in different parts of South India including Cuddalore, Port Blair and Campbell Bay. Campbell Bay was the biggest challenge for the relief efforts as it is a restricted area and was accessible only with the help of the armed forces, whose priority was to ferry their personnel to rebuild the damaged defence structures. Secondly, with maximum property loss, every piece of hardware or household equipment had to be bought from Port Blair or Chennai. This added to the expense of our operations.
We could not look the other way because Campbell Bay needed special attention as no international organization had access to the island for a fortnight after the tsunami. Rebuilding the area was another challenge as there was lot of property loss. It needed not only short-term fixes but also long-term solutions. Bhai Esher Singh of UNITED SIKHS toured different places i.e. Pune , Nasik, New Delhi, Chandigarh, Amritsar to explain the situation in Campbell Bay to Sikh leaders and draw their attention towards the A&N islanders.
To fulfil the immediate needs and long term requirements, we donated an ambulance for medical emergencies, a sawmill to rebuild homes using the trees that had fallen during the tsunami, a community center comprising a sewing and a computer center to help survivors compensate for losses through new opportunities.
The ambulance was bought at the request of the Campbell Bay sangat (community). It was important that we did not impose our solutions on the community, hence we consulted them. It has been handed to the president of the Gurdwara committee to use as the committee sees fit for sarbat da bhela (for the good of all). The Assistant Commissioner of Campbell Bay, Vikram Pandey, told UNITED SIKHS says that an additional ambulance will supplement the service provided by the existing two ambulances, which at the moment do not reach the remote interiors.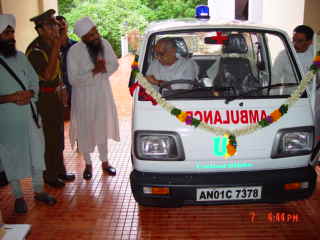 Lt Governor of A&N inspecting the Ambulance for Campbell Bay
The transport of the sawmill from Car Nicobar to Campbell bay has been delayed because of the breakdown of two cargo ships since last summer and priorities to ship more urgent food material. We have been reassured by the administration that the ships are now repaired and that the sawmill will be on its way to Campbell Bay soon. The Gurdwara committee will be custodians of the sawmill and will liaise with the forest department and the island's administration for permission to log the thousands of tsunami-hit trees.

The computer center has seen 195 students of all races and religions enrol since it opened under a year ago. The responsibility of running the centre has been left in the hands of a local 5 member committee with funding provided by UNITED SIKHS.
Visit our online gallery for more pictures on Campbell Bay
http://www.unitedsikhs.org/ghanaia/gallery/campbell_bay/

UNITED SIKHS has agreed to provide financial assistance in response to a request by the Gurdwara committee to build a secondary wall which will prevent flooding of the Gurdwara. The project, which will cost about $14,000, will be managed by the committee.
A total of 14 water tanks were supplied in Campbell Bay and Cuddalore (Tamil Nadu), to supply clean drinking water. In Cuddalore, UNITED SIKHS has collaborated under an umbrella group called Guru Nanak Sarbat Sikh Sangat (GNSSS) and contributed $13,650 towards the building of 50 houses for survivors.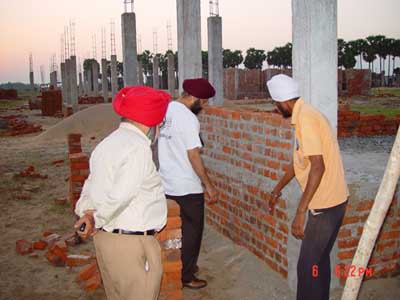 GNSSS Construction Site at Cuddalore
Visit our online gallery for more pictures on Cuddalore http://www.unitedsikhs.org/ghanaia/gallery/south_india/
In Sri Lanka , the initial plan was to provide food and medical relief material to the survivors but after seeing that there were some sectors of the affected community which were not receiving help due to the political strife and security concerns, UNITED SIKHS decided to expand the efforts and set up a base camp in Batticaloa. This camp was run continuously until August 2005. Different teams of trained counsellors were sent from the United States to provide trauma related counselling. These counsellors had previous experience in providing trauma counselling in areas affected by natural disasters and ethnic genocide with direct experience in war torn regions including Bosnia , Kosovo and Armenia . To help the survivors have a better tomorrow, we ran livelihood projects by supplying chickens for breeding and distributing fishing nets to the survivors who had not received any livelihood aid.
Visit our online gallery for more pictures on Sri Lanka relief
http://www.unitedsikhs.org/ghanaia/gallery/sri_lanka/
In Indonesia, UNITED SIKHS was the first Sikh relief organization to announce its plans to go to Aceh. We approached the Sikh Naujawan Sabha Malaysia , a Malaysian Sikh youth organization, to partner us in this venture. The result was the setting up of an umbrella organization called Global Sikhs. The success of Global Sikhs in Aceh is well documented.
Visit our online gallery for more pictures on Banda Aceh
http://www.unitedsikhs.org/ghanaia/gallery/banda_aceh/
In Thailand , UNITED SIKHS provided immediate relief material such as food and first aid equipment. We partnered with a local organization to provide medical assistance and counselling services to survivors on Phi Phi Island .
Visit our online gallery for more pictures on Thailand relief
http://www.unitedsikhs.org/ghanaia/gallery/thailand/
Field Reports from relief workers can be found on our website
http://www.unitedsikhs.org/ghanaia/fieldreport.html
People's Voice – GHANAIA in the Public Eye http://www.unitedsikhs.org/ghanaia/peoplesvoice.html
Media Response – GHANAIA in the News http://www.unitedsikhs.org/ghanaia/inthenews.html
Our Finances
See link below for our updated financial report. http://www.unitedsikhs.org/financeStmt/Audit2005Sikh-Aid.pdf
Our Challenge
You have seen how, by working together to maximize resources and reach people at the community level, UNITED SIKHS helps survivors move toward long-term recovery. To take us into the next stage of developing our humanitarian relief work, we will have to invest our resources in a pro-active program of relief response administration, recruitment and training. This will involve hiring professional staff who will run the Sikh Aid programme so that we can respond to disasters more efficiently and productively.
UNITED SIKHS has strong relationships with donors and volunteers. The basis for this relationship is rooted in confidence and trust. In order to earn this trust, we strive
* to keep the overheads low
* to ensure that your money supports change in the community and
* for transparent spending, ensuring that you, the donor, can see where the money is spent.
For those who are already an integral part of this relationship, we pray that you continue to be confident in UNITED SIKHS' ability to serve those in need with love, hope, and efficiency. For those unfamiliar with UNITED SIKHS, we hope to encourage a new relationship so that together we may bolster our efforts to positively affect the lives of the needy.
Our Vote of Thanks
We thank our donors for their generous support and our volunteers who saw the true meaning of selfless service. We invite you to join us to thank the global community's faith which makes it possible for UNITED SIKHS to draw upon a network of volunteers to respond immediately and help the most vulnerable when disaster strikes.
Links
Issued by:
Kuldip Singh
Director
UNITED SIKHS
contact@unitedsikhs.org
001 404 5508356
---