Community Voice
Friday, 16 September 2005
2 Assu (Samvat 537 Nanakshahi)
UNITED SIKHS Makes a Difference to the Lives of New Orleans Evacuees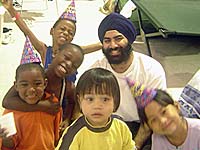 Navneet Singh with kids at a shelter home.
Baton Rouge, Louisiana: UNITED SIKHS served food and prepared snack bags for evacuees at the Allen Chapel AME Church near Baton Rouge. Working with the Federal Emergency Management Agency ( FEMA ), it was discovered that Allen Chapel needed volunteers to prepare and serve food. A team of four UNITED SIKHS volunteers was promptly dispatched to the church for help.
The volunteers also served at the Plaquemine Civic Center in the city of Plaquemine, 45 miles east of Baton Rouge. "The team served food but they just didn't stop there. They helped to load boxes of supply materials from supply trucks to their warehouses and then later spent time talking to the survivors and providing emotional support to the kids as well. I was there and it was simple help but amazingly moving at the same time" said Navneet Singh, UNITED SIKHS director.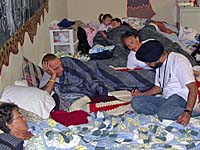 Kuldip Singh making a list of required items
UNITED SIKHS has continued to assist at the FEMA field office where volunteers Jaspreet Singh and Baldeep Singh are developing an application for tracking relief grants issued to the Katrina hurricane victims by FEMA.
UNITED SIKHS has promised to provide volunteers to Pastor Broxie at the Community Worship centre in Napoleonville LA, who will serve hot meals and help evacuees file rapid claims electronically.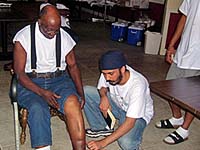 Baldeep Singh examining an injury.
Tvette Fountain, 45, an evacuee at the Shekinah Glory Shelter home told UNITED SIKHS director, Kuldip Singh, that they felt like the world was 'coming down' and they feared for their lives. Tvette and her husband Kenith, said that their house near Canal Street, New Orleans was flooded with about 6 feet of water. They hitched a ride in a truck and took shelter at the Shekinah Glory shelter home. Tvette was finally able to talk to her son, who was separated during the hurricane after 10 days.
Albert, 44, told Baldeep Singh that he drove to New Orleans in a truck to rescue his neighbor Mozes, 83, who lived in a trailer there. Both of them are now at the Shekinah Glory shelter home. Mozes has a swollen foot, is very sick and needs to see a doctor. A UNITED SIKHS medical team arrives this weekend to help evacuees who need medical attention at the shelter.
Katrina Hurricane Relief Links
Issued by
Kuldip Singh
Director
UNITED SIKHS
Katrina-project@unitedsikhs.org
Tel: 1 404 5508356 (Toll Free: 1-888-243-1690)
---
Our Mission
To transform underprivileged and minority communities and individuals into informed and vibrant members of society through civic, educational and personal development programs, by fostering active participation in social and economic activity.
UNITED SIKHS is also an avenue for networking between like-minded organisations to establish and nurture meaningful projects and dialogues - whether social, cultural or political- to promote harmony, understanding and reciprocity in our villages, towns and cities.
UNITED SIKHS is a coalition of organisations and individuals, who share a common vision based on the belief that there is no greater endeavour than to serve, empower and uplift fellow beings. The core of our philosophy is an unwavering commitment to civic service and social progress on behalf of the common good.
Accordingly, UNITED SIKHS has sought to fulfil its mission not only by informing, educating and uplifting fellow beings but also by participating in cross-cultural and political exchanges to ensure that the promises and benefits of democracy are realized by all.
We at UNITED SIKHS believe that the development of enlightened and progressive societies can be made possible by socially conscious groups of people who make a commitment to develop and direct human potential. Our work, efforts and achievements stand as a testament to our faith in this vision.