| | |
| --- | --- |
| 16 May 2005 | 2nd Chayth, 537 Nanakshahi |
UNITED SIKHS Highlights Sikh Turban Rights at Sikh Day Parade in New York
New York City, NY—A sea of Turbans and scarves processed down the streets of Manhattan as 20,000 Sikhs from the tri-state area followed colourful floats in the 18th annual Sikh Day Parade on April 30, 2005. This was a clearest demonstration of the rights and freedoms enjoyed by Sikhs globally whilst their counterparts in France are denied their right to wear the Turban. Guru Ka Langar (community kitchen food) was organized at the make-shift camps near Madison Park and devoted Sikhs distributed approximately 8 tons of food to all. Community leaders such as Mr. Simranjit Singh Mann, Ex-MP India, presided over the parade and shared their views about religious freedoms enjoyed by Sikhs living in the United States of America.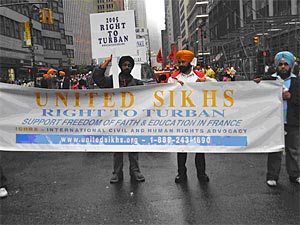 Photo 1.
UNITED SIKHS members at the 18th Sikh Day parade.
UNITED SIKHS' message at the parade was the community's deep concern against the March 2004 French Government ban of the Sikh turban along with other religious symbols in French schools. UNITED SIKHS made their message heard by distributing t-shirts and carrying banners and placards to bring about awareness regarding discrimination against Sikhs and other religions by the French Government. Sporting the traditional dress of the Sikhs, UNITED SIKHS volunteers experienced the true purpose of their mission in France: to fight for a Sikh's right to practice his/her faith fully and fearlessly any where in the world.
Under the law passed by the French parliament in March 2004, schoolchildren are banned from wearing the Christian cross, Jewish skull-cap, Islamic head scarf and the Sikh Turban, a direct violation of the freedom to practice one's religion under the United Nations universal declaration of human rights and under the European Convention on Human Rights. Three French Sikh boys were expelled from school last December for refusing to remove their Turbans, which they wore to school in accordance with their faith. Their application to be re-admitted to their school with Turbans was rejected by a French administrative court in Melun, in the outskirts of Paris, on April 19. The schoolboys are appealing the court's decision. The ban-law has affected many French Sikh school children A UNITED SIKHS report on a survey of how the law has affected French Sikh schoolchildren can be read at http://www.unitedsikhs.org/rtt/doc/
report_on_affect_of_law_on_french_sikh_schoolchildren.doc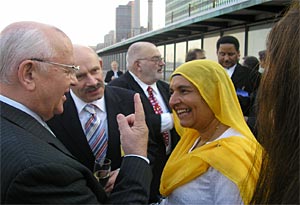 Photo 2.
Jessiee Kaur with Mikhail S.Gorbachev
outside the UN Plaza in New York.
Addressing the gathering, Directors Kuldeep Singh and Harpreet Singh spoke on the deeply disturbing trend of discrimination against religious freedom in France. Other volunteers included Mandeep Singh, Gurpreet Singh, Harleen Kaur, and Sarbjeet Singh. Director Manvinder Singh stated, "UNITED SIKHS will continue to work for the civil and human rights of Sikhs under our International Civil and Human Rights Advocacy Directorate (I.C.H.R.A.)." UNITED SIKHS re-affirms its commitment to continue the fight for the Sikh Turban in France with utmost diligence.
UNITED SIKHS' Interfaith Executive Director Jessiee Kaur (Australia) also attended the parade as she was in New York to attend the United Nations Alan Cranston Peace Award ceremony. At the parade she spoke on how the world community's need to effectively address the challenges ahead to resolve issues ranging from international terrorism and climate change to regional wars and genocide. "International institutions have a prominent role in the settlement of international conflicts, in providing a forum where states representing different social systems and historical and cultural traditions work together to solve the common problems faced by all mankind," explained Jessiee Kaur.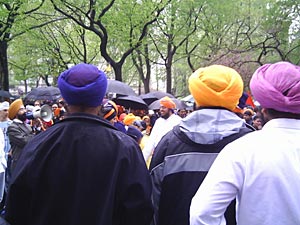 Photo 3.
A view of the procession.
The parade was not only attended by Sikh cultural and religious bodies in and around Tri-state area along with groups from other parts of the U.S. and Canada. The New York City Sikh Day Parade is famous for its Gatka presentations by young men and women and this year was no exception. Some participants who travelled from as faraway places such as Australia, Malaysia, and India were conspicuous in the parade. Though it rained during early hours, it did not dampen anyone's spirit and the weather was pleasant through the procession. The parade was marked by walkers as well as motored cavalcades that carried portraits explaining a range of aspects of Sikhism. UNITED SIKHS looks forward to a greater participation in the community's forthcoming events and hopes that it will continue to receive the community's generous support in its endeavours to secure unrestricted rights for Sikhs to practise their faith freely throughout the world.
For more information on the Right to Turban campaign, please link to: http://www.unitedsikhs.org/rtt/
Report by Mandeep Singh
Contact: 1-888-243-1690
---
Our Mission
To transform underprivileged and minority communities and individuals into informed and vibrant members of society through civic, educational and personal development programs, by fostering active participation in social and economic activity.
UNITED SIKHS is also an avenue for networking between like-minded organisations to establish and nurture meaningful projects and dialogues - whether social, cultural or political- to promote harmony, understanding and reciprocity in our villages, towns and cities.
UNITED SIKHS is a coalition of organisations and individuals, who share a common vision based on the belief that there is no greater endeavour than to serve, empower and uplift fellow beings. The core of our philosophy is an unwavering commitment to civic service and social progress on behalf of the common good.
Accordingly, UNITED SIKHS has sought to fulfil its mission not only by informing, educating and uplifting fellow beings but also by participating in cross-cultural and political exchanges to ensure that the promises and benefits of democracy are realized by all.
We at UNITED SIKHS believe that the development of enlightened and progressive societies can be made possible by socially conscious groups of people who make a commitment to develop and direct human potential. Our work, efforts and achievements stand as a testament to our faith in this vision.