Please Be Involved, Click here and Join UNITED SIKHS
To receive forthcoming bulletins join our UNITED SIKHS Yahoo group
To donate go to www.unitedsikhs.org/donate
This Press Release may be read online at: http://www.unitedsikhs.org/PressReleases/COMVCE-14-07-2008-00.htm
Press Release: 14th July 2008, Monday, 30th Harh (Samvat 540 Nanakshahi )
Community Voice
Japji Sahib- An Elixir For Life !!!
A recent migrant fleeing from Afghanistan held kids spellbound recounting his experiences of becoming a Sikh
New Delhi - The UNITED SIKHS Learning Values series took a new dimension to inculcate a value system in children based on Gurbani, Sikh scriptures. A workshop titled 'Why Jap Ji Sahib???' was conducted at Gurudwara Singh Sabha, Prem Nagar, Janak Puri, New Delhi last month. This was specifically targeted at school going children between the ages of 10 to 16 years.
"This 10- day workshop, with a one and a half hour session, was run every day from June 17 to June 26, 2008 because we felt there was a dire need to share with children the values of Jap Ji Sahib, the first prayer written by the first Sikh Guru, Nanak Sahib Ji," said UNITED SIKHS director, Kanwal Jit Singh.
The focus was on correct pronunciation and deep understanding of the meanings of Jap Ji Sahib, which is written in Gurmukhi script and in Gurbani language, not a common language of today. Bhai Mangal Singh ji, a scholar of the Gurmat Missionary College, Ropar, Panjab, conducted the sessions with great enthusiasm and zeal keeping in mind the inquiring mind set of children.
| | |
| --- | --- |
| | |
| Bhai Mangal Singh ji with the students | Gurpreet Singh and Lakhan Sharma actively participating during the interactive session |
Bhai Mangal Singh gave an insight into Jap ji Sahib, which is a morning prayer for Sikhs, with the help of a slide show presentation that contained relevant pictures which helped him to explain its meaning in a more explicit way. He explained each and every word in Jap Ji Sahib and regular interactive sessions took place where students were asked to clear their doubts followed by a validation exercise. A special focus was to ensure that children assimilate the understanding in their daily life.

To bring the point home, Amarjeet Singh, a recent refugee from Afghanistan who recently got initiated into Sikhism, was introduced to the children so that they could see first hand how prayer changed the life of a refugee.
"Amarjeet Singh, who had been emailing the worldwide web for help for a few months because he had no means to support an ailing mother, came to UNITED SIKHS' attention recently. We invited him to the workshop to share his experiences of prayers and to discuss how we could help him further," said Kanwal Jit Singh.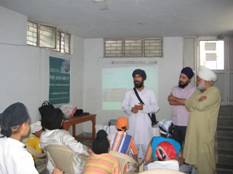 Amarjeet Singh, a refugee from Afghanistan, sharing his experiences with the kids
Amarjeet Singh spoke to the children from his heart, "I went to a Gurudwara one Vaisakhi Day (a Sikh celebration marking the revelation of the khalsa brotherhood) and what inspired me was the openness and the 'Sewa bhaav' (selfless service spirit) among Sikhs,"
"I then visited various Sikh websites to learn more about Sikhism," he explained about how he became a Sikh.

One of the participants, Gurpreet Singh Khalsa, 12, explained how reciting prayers daily has brought changes in his life. He said, "After I made it a routine to do Jap Ji Sahib, I have actually become more active, powerful and I feel more confident".
A part of the 10-day workshop routine was a 10 minute 'Simran', meditative session, repeating the 'Waheguru' gurmantar to help the children improve their concentration. One of the youngest children, Jaspreet Singh, 9, led the Simran session for one day and its impact was so powerful that from that day onwards all other children started taking an active interest and were keen to lead the sessions.
Other than the presentations, there was a 'Shabad' recitation program conducted by Satwinder Kaur, one of the volunteers. The response from the kids was overwhelming. Also, participants Mandeep Kaur, Lakhan Sharma and Anuj Khetarpal recited two 'Shabads' each which were very impactful.
The importance of wearing a Turban was shared and the children agreed to wear 'Dastaars'( turban) which were tied on their heads by a team of volunteers, including Bhai Mangal Singh ji.
It was an amazing experience for the kids as well as the organisers. A sense of pride could be felt as the workshop enabled the children to relate with the theme in a very open and interactive manner.

| | |
| --- | --- |
| | |
| S. Iqbal Singh ji, President, Gurudwara Prem Nagar, Presenting Dushala to Bhai Mangal Singh ji | S. Baljeet Singh ji, one of the volunteers, honoring S. Iqbal Singh ji |
The President of the Gurudwara Sahib, S. Iqbal Singh ji was invited on the last day and was honored with a 'Dushala' and a sincere note of thanks for all the support he extended to us. He appreciated the initiative taken by UNITED SIKHS to organise this workshop. Bhai Mangal Singh ji was also honored and applauded for the efforts he had put in to make this workshop a success. He was also presented a 'Dushala'.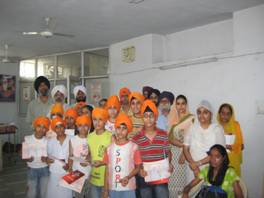 Participants and the UNITED SIKHS team
The children requested that more workshops be conducted in the future on weekends and during the summer holidays. UNITED SIKHS is looking for schools that will host these workshops which will include topics such as conversational English conversation, memory enhancement, time management and leadership skills. UNITED SIKHS will be conducting the first conversational English workshops in July and will cover the other subjects in the coming months.
You may read a previous press release on the Learning Values Series at http://www.unitedsikhs.org/PressReleases/COMVCE-10-02-2008-00.htm
Issued By:
Komalmeet Kaur
Project Coordinator
Learning Values Series
UNITED SIKHS-India
Tel: +91-9818096705
---
Our Mission
To transform underprivileged and minority communities and individuals into informed and vibrant members of society through civic, educational and personal development programs, by fostering active participation in social and economic activity.
UNITED SIKHS is also an avenue for networking between like-minded organisations to establish and nurture meaningful projects and dialogues - whether social, cultural or political- to promote harmony, understanding and reciprocity in our villages, towns and cities.
UNITED SIKHS is a coalition of organisations and individuals, who share a common vision based on the belief that there is no greater endeavour than to serve, empower and uplift fellow beings. The core of our philosophy is an unwavering commitment to civic service and social progress on behalf of the common good.
Accordingly, UNITED SIKHS has sought to fulfil its mission not only by informing, educating and uplifting fellow beings but also by participating in cross-cultural and political exchanges to ensure that the promises and benefits of democracy are realized by all.
We at UNITED SIKHS believe that the development of enlightened and progressive societies can be made possible by socially conscious groups of people who make a commitment to develop and direct human potential. Our work, efforts and achievements stand as a testament to our faith in this vision.