Please Be Involved, Click here and Join UNITED SIKHS
To receive forthcoming bulletins join our UNITED SIKHS Yahoo group
To donate go to www.unitedsikhs.org/donate
This Community Voice may be read online at: http://www.unitedsikhs.org/PressReleases/COMVCE-12-09-2006-00.htm
Community Voice
Tuesday, 12 Sept 2006
28th Bhaadon (Samvat 538 Nanakshahi)
An Appeal: Two Bright Sikh Scholars from Panjab Need your Support
Satpreet Singh: "I will not be able to satisfy the financial standing requirements for my United States visa, let alone buy a flight ticket and meet other expenses to attend the conference in Houston ."
Harmanjit Singh: "Please consider my case with kindness, as I want to be a good Sikh research scholar."
How you can help :
donate air miles or funds to procure tickets for travel from Panjab to conference venue
provide lodging and food or donate cash for living expenses for their 7 day stay during the conference
donate cash for their expenses to obtain a visa and to meet their collateral expenses
Amritsar , Panjab – Satpreet Singh and Harmanjit Singh have written technical research papers which have been accepted for international conferences in Houston and Prague , respectively. However, they cannot afford to attend the international conferences to present their papers. It is not often that we read of bright young scholars who have earned international acclaim after a struggle through village schools and poverty. Satpreet and Harmanjit are two such scholars of Guru Nanak Dev University , (GNDU), Amritsar , who have approached UNITED SIKHS for financial help to present their research papers abroad.
Satpreet Singh, 24yrs, a PhD research fellow at GNDU, Amritsar in the field of 'object oriented re-engineering' , has written a paper "Comparative Analysis of Wireless Network Technologies (Wi-Fi, WiMAX, MBWA)", that has been accepted to be presented at an international conference being held in Houston, Texas, USA. The Offshore Communications Conference is being held on the 7 th -9 th of November and Satpreet has been selected to make a 25 minute presentation followed by a 15 minute question and answer session at the event. He has to confirm his participation in the event by Friday, 15 Sept. Click here to read the letter inviting him to present his paper.
Harmanjit Singh, 26 years, a PhD student at GNDU is researching " indoor radon-estimation of uranium, radium, thorium and other radioactive elements." He h as been invited to present his research paper at the "8 th International Workshop on geological aspects of Radon" in Prague , Czech-Republic, from Sept 26 th 2006 . He is currently presenting a paper at another conference in Beijing , China . Click here to read a related press report.
Both come from a background where they have had to struggle against all odds to succeed when it seemed impossible. They studied at their local village school, often not having the funds to buy books. Yet their determination earned them scholarships to study at local universities.
Now they have an amazing opportunity to show their excellence to the international technological community. However no funding is provided by the conference hosts.
Satpreet, who is also a lecturer at Khalsa College , Amritsar told UNITED SIKHS, "I will not be able to satisfy the financial standing requirements for my United States visa, let alone buy a flight ticket and meet other expenses to attend the conference in Houston ."
"I hope UNITED SIKHS will be able to supply me with a financial sponsorship letter and make an appeal for funding assistance from the sangat," he added.
Satpreet was granted a a Nishkam Welfare Council scholarship to pursue his Masters in Computer Applications (MCA) at Guru Nanak Dev University, through the needy student scheme - all due to his hard work and innovative ideas. His research work is being conducted under the direction of Dr. Hardeep Singh, professor and head of the Computer Science and Engineering department at GNDU college in Amritsar . Satpreet has also written research papers for national conferences - one has already been presented at GNDU in March and the other will be read at the Guru Nanak Dev Engineering College(GNDEC) Ludhiana on the 18 and 19 th of this month.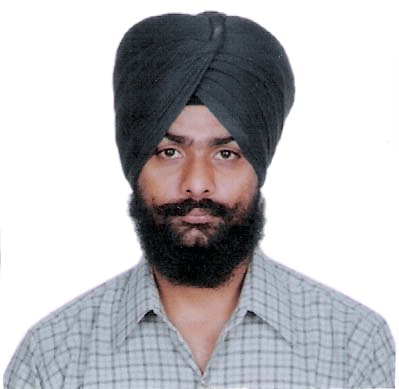 Satpreet Singh
Harmanjit Singh said in an email to UNITED SIKHS, "But I belong to a poor farming, rural, pooran-Gursikh family. I am also a Saabat-Surat Sikh student. I have done my graduation by getting scholarships from Khalsa College management(Amritsar).I am the only Sikh student that is going to present a paper in this international workshop from the entire world. I want to attend this conference at any cost because this conference comes after a 4 year gap. My university does not provide any funds for these activities. Being a NANAK-NAAM leva sikh, I request that you please provide my registration fee and air-fare for this trip."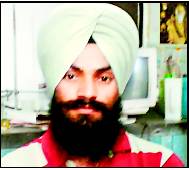 Harmanjit Singh
"Please consider my case with kindness, as I want to be a good Sikh research scholar."
Could we let them have their dream, our dream, of seeing these talented and intelligent youths, not only present a highly thought provoking paper in the midst of this emerging wi-fi era, but to also represent that the emerging 'Indian' technology market is led by Gursikhs like Satpreet Singh and Harmanjit Singh. All this whilst competing with internationally acclaimed scholars in technology.
UNITED SIKHS is seeking your help and assistance to ensure that Satpreet Singh and Harmanjit Singh are given the opportunity to showcase their talent at an international level and become role models for other village students.
Under the Sikh With A Need ( SWAN ) project, UNITED SIKHS hopes to make their dream come true with your support.
How you can help :
donate air miles or funds to procure tickets from New Delhi to Houston.and Prague for Satpreet Singh and Harmanjit Singh respectively.
provide transportation or funds to travel to and from the conference venues.
provide lodging and food or donate cash for Satpreet Singh and Harmanjit Singh's expenses for their 7 day stay in Houston and Prague respectively.
donate cash for their expenses to obtain a visa and to meet their collateral expenses whilst in Houston and Prague respectively.
Please contact us via email at swan@unitedsikhs.org with the subject "I wish to Help Satpreet Singh and Harmanjit Singh, if you can help.
To donate go to www.unitedsikhs.org/donate and specify that you are donating towards Satpreet Singh and Harmanjit Singh's expenses.
To read previous press releases on a SWAN project please click
http://unitedsikhs.org/PressReleases/COMVCE-09-12-2005-02.htm
Issued by:
Baljeet Kaur
Director
UNITED SIKHS Community Service
---
Our Mission
To transform underprivileged and minority communities and individuals into informed and vibrant members of society through civic, educational and personal development programs, by fostering active participation in social and economic activity.
UNITED SIKHS is also an avenue for networking between like-minded organisations to establish and nurture meaningful projects and dialogues - whether social, cultural or political- to promote harmony, understanding and reciprocity in our villages, towns and cities.
UNITED SIKHS is a coalition of organisations and individuals, who share a common vision based on the belief that there is no greater endeavour than to serve, empower and uplift fellow beings. The core of our philosophy is an unwavering commitment to civic service and social progress on behalf of the common good.
Accordingly, UNITED SIKHS has sought to fulfil its mission not only by informing, educating and uplifting fellow beings but also by participating in cross-cultural and political exchanges to ensure that the promises and benefits of democracy are realized by all.
We at UNITED SIKHS believe that the development of enlightened and progressive societies can be made possible by socially conscious groups of people who make a commitment to develop and direct human potential. Our work, efforts and achievements stand as a testament to our faith in this vision.