Please Be Involved, Click here and Join UNITED SIKHS
To receive forthcoming bulletins join our UNITED SIKHS Yahoo group
To donate go to www.unitedsikhs.org/donate
This Community Voice may be read online at: http://www.unitedsikhs.org/PressReleases/COMVCE-10-05-2006-02.htm
Community Voice
10th May 2006
27 Vaisaakh (Samvat 538 Nanakshahi)
Sikhs Showcase their Diversity at NYC Mayor's Immigrant History Week
New York, USA: New York Sikhs celebrated their colourful immigrant history on April 22nd during Mayor Bloomberg's annual Immigration Week Celebrations.
The event, organised on behalf of the New York Sikh community by UNITED SIKHS,
took place at the Queens Central Library in Jamaica, in the Borough of Queens and it marked the first time that the Sikh community had taken part in the celebrations, which first began in 2004.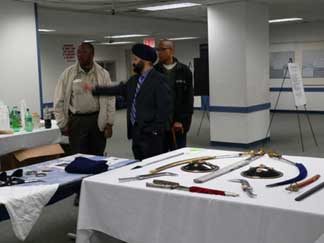 Sikh Artefacts Exhibited at NYC Immigrant History Week
For the Sikhs of New York it provided a platform to share their history, culture and religion and for many New Yorkers, it was the first time they had the opportunity to interact with the City's Sikhs on such a large yet at the same time personal scale.
One of the attendees, Bob Lucas was very enthusiastic about the event: "I learned so much about the Sikh religion from the presentations." Bob went on to say that "Please bear with us because we Americans (and probably people) in general tend to not go out of our way to learn about other religions and cultures until they directly come into our lives." His sentiments echoed those of other attendees, and the event was particularly important given the current political-religious climate.
The event was entitled "Americans in Turbans: An Inside Look at NYC Sikhs" and included a photographic exhibition of Sikh immigrants; a display of historical and religious Sikh artefacts; a screening of Sikh films, as well as a Gatka demonstration, finishing with a Kirtan program.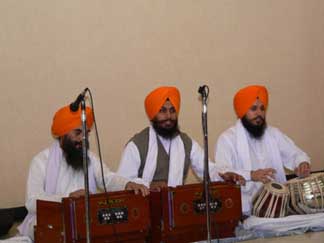 Kirtan at NYC Event
New Yorkers were also treated to a dose of culture directly from Panjab with Bhangra dances and music and traditional Panjabi food. The audience comprised of different ethnicities, representing New York's effervescent diversity. Stacy Stecko, a representative from the Mayor's Office of Immigrant Affairs commented: "In my experience this is one of the most successful events in Immigration History Week."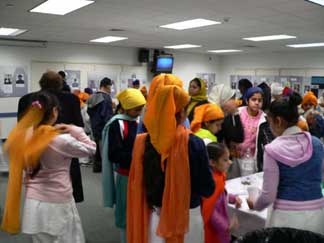 Young NY Sikhs Discovering Their Roots at the Sikh History Exhibition
Bob added "I also enjoyed the martial arts demonstration and the spiritual music: a very nice way to end the program. I also thought the coffee and food were delicious, I would love to know how to cook Panjabi food!".
"This exhibition is a move by New York city Sikhs to be recognised as contributors to the city's diversity. We hope the day is not far off when we will celebrate Vaisakhi in Time Square, in a way which will make us all proud," said Kuldip Singh, President of UNITED SIKHS.
Issued by:
Jaskaran Singh
Operations Manager
UNITED SIKHS
---
Our Mission
To transform underprivileged and minority communities and individuals into informed and vibrant members of society through civic, educational and personal development programs, by fostering active participation in social and economic activity.
UNITED SIKHS is also an avenue for networking between like-minded organisations to establish and nurture meaningful projects and dialogues - whether social, cultural or political- to promote harmony, understanding and reciprocity in our villages, towns and cities.
UNITED SIKHS is a coalition of organisations and individuals, who share a common vision based on the belief that there is no greater endeavour than to serve, empower and uplift fellow beings. The core of our philosophy is an unwavering commitment to civic service and social progress on behalf of the common good.
Accordingly, UNITED SIKHS has sought to fulfil its mission not only by informing, educating and uplifting fellow beings but also by participating in cross-cultural and political exchanges to ensure that the promises and benefits of democracy are realized by all.
We at UNITED SIKHS believe that the development of enlightened and progressive societies can be made possible by socially conscious groups of people who make a commitment to develop and direct human potential. Our work, efforts and achievements stand as a testament to our faith in this vision.