Please Be Involved, Click here and Join UNITED SIKHS
To receive forthcoming bulletins join our UNITED SIKHS Yahoo group
To donate go to www.unitedsikhs.org/donate
This Community Voice may be read online at: http://www.unitedsikhs.org/PressReleases/COMVCE-10-05-2006-00.htm
Community Voice
10th May 2006
27 Vaisaakh (Samvat 538 Nanakshahi)
UNITED SIKHS COLLABORATES WITH NGOs FOR REHAB OF ASIAN QUAKE SURVIVORS
Azad Kashmir, Pakistan - UNITED SIKHS has collaborated with an Austrian relief agency, the Seventh Day Adventists and Guru Nanak Relief Camp to provide shelter homes, household kits and duvets to assist the Asian quake survivors rebuild their lives.
Harsharen Kaur, a UNITED SIKHS director from the UK, who has been co-ordinating with the NGO's in Pakistan said: "As the need here is so great it's impossible for any one organisation to fulfill the needs". There are about 40 International NGOs and about 20 local NGOs in Bagh alone all working together, coordinated by the United Nations to ensure everyone is being assisted and to avoid duplication of effort. She added, "It's amazing to see so many people from all over the world working together to help these people survive".
UNITED SIKHS collaborated with the Austrian NGO, HOPE 87, to provide shelter homes to quake victims, the majority of whom were living in un-winterised tents. These shelter homes are made of CGI sheets built on a metal frame. A wood burning stove is also provided with each shelter home to help keep the family warm and enable them to cook their meals.
Each shelter home caters for a family of up to 6 people. Each family which received a shelter home from UNITED SIKHS helped HOPE 87's construction team to build the shelters. They were taught to make a mixture using mud which was spread over the outside of the shelter home which was then covered with straw as an insulator.
Providing shelter homes became a priority when the government announced that all survivors in camps had to return to their homes or alternative homes by 31st March 2006. Unfortunately not everyone has been provided with the shelter homes due shortage of funding as each shelter home cost 120 British pounds.
Lakhvinder Kaur, a UNITED SIKHS project officer from Singapore, was involved with the handover of the shelters. "We were received by HOPE 87 when we arrived in Chakimang village in Bagh where UNITED SIKHS funded 11 shelter homes," she said. We also funded shelter homes in Moharian and in Dahra.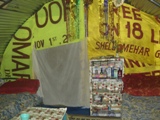 The inside of one family's shelter home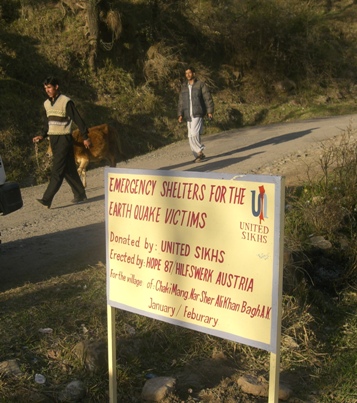 Lakhvinder who met with the families there said, "These families are very grateful. Their only concern now is getting jobs. Zainab, a 20 year-old, told me her story and how she lost hope when the quake happened. She has lost all her educational papers and certificates and is upset that it will take 2 years for her to get them from the authorities. However, she is very grateful to the NGOs. Ahmed Abbas from HOPE 87 offered to find her work with his organization." Lakhvinder added, "These people are happy to be back to their original grounds and want to move on with their lives and solve their issues. Their 'hopeful' attitude is such a relief and inspiring, they are all back to enjoying the terrain and hope is always just round the corner!".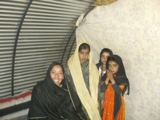 Zainab (smiling) and her family in their shelter home
UNITED SIKHS also collaborated with the Guru Nanak Relief camp in Muzzafarabad by providing duvets and household kits costing 2.2 lakh Pakistani rupees to the survivors who were instructed by the government to leave the tent villages and resettle in their homes by 31st March 2006.
The Guru Nanak Relief camp was set up by Manjit Singh from Lahore immediately after the earth quake occurred. Muzzafarabad was the epicenter of the earthquake and many people suffered great losses. Families living in this camp site have been provided with langar and regular supply of water and electricity. Lakhvinder reports: "The survivors were in fact very unhappy to leave the camp site. They are very grateful for the 'sangat' or company they have had with each other and the support they have received from the camp supported by Sikhs." Harsharen also noted that Muslims in Bagh were also aware of the Guru Nanak Relief Camp. "A member of the host family I stayed with told me that when the Sikhs arrived to help after the quake, the first thing they did was to gather the locals and wash the area after which they set up a Mosque to enable the Muslim survivors to do their prayers. They then they set up the campsite which housed over 200 families".
UNITED SIKHS also collaborated with ADRA (Adventist Development & Relief Agency), to provide much needed duvets to the quake survivors when the winter was setting in. Jackie Fong and her brother Raymond Fong, both from Malaysia, joined UNITED SIKHS in Pakistan to assist with the aid efforts.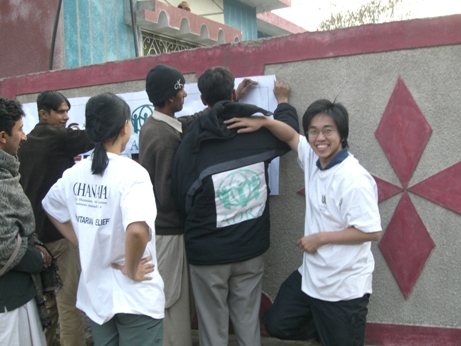 Jackie and brother Raymond as the UNITED SIKHS team join forces with ADRA
Jackie wrote as she returned home: "I get emotional when I think about it…I am grateful to have had the opportunity to volunteer with UNITED SIKHS in Bagh; it was indeed an experience for both Raymond and I."
We worked with ADRA, which has been established in Pakistan for the last 25 years. Dr John Mcgee and his wife explained how fabulous their team was, working for less then other NGOs were paying volunteers and they exhibited amazing spirit and always prayed before the teams were sent out. "ADRA's staff are fantastic people, we really enjoyed working with them" Harsharen said.
The duvets donated by ADRA and UNITED SIKHS were delivered to Nindrai to be distributed to 305 families - 5 duvets per family in both Nindrai and Padal.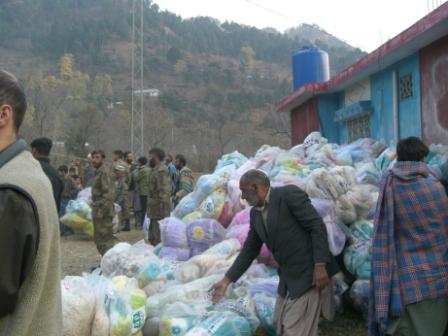 Duvet distribution in Padar & Nindrai in Azad Kashmir
"It's very important for me and UNITED SIKHS as a whole to ensure that the donations that people have given are utilized on those who need it most. People have given from their hearts and it is my duty to make sure that their donations, be it financial or material, reach those people for whom it was intended. Therefore we made sure we personally distribute aid," said Harsharen.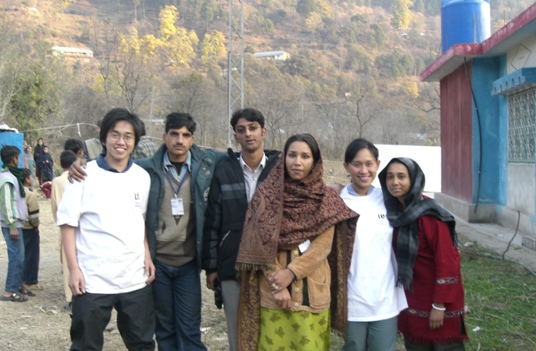 UNITED SIKHS TEAM Raymond, Jackie and Harsharen after distributing aid with the ADRA Team
The UNITED SIKHS team owes their success to Bushra Khan & family, Farooq Niazi, Dr Naim Niazi, Latif Maqsood & family and Ramesh Singh & family for their hospitality and assistance.
To read a previous Press Release on the Asian Quake Relief project please see:
http://unitedsikhs.org/PressReleases/COMVCE-16-03-2006-00.htm
Issued by:
Harsharen Kaur
Director
UNITED SIKHS
Tel: +44 (0) 870 1993328
---
Our Mission
To transform underprivileged and minority communities and individuals into informed and vibrant members of society through civic, educational and personal development programs, by fostering active participation in social and economic activity.
UNITED SIKHS is also an avenue for networking between like-minded organisations to establish and nurture meaningful projects and dialogues - whether social, cultural or political- to promote harmony, understanding and reciprocity in our villages, towns and cities.
UNITED SIKHS is a coalition of organisations and individuals, who share a common vision based on the belief that there is no greater endeavour than to serve, empower and uplift fellow beings. The core of our philosophy is an unwavering commitment to civic service and social progress on behalf of the common good.
Accordingly, UNITED SIKHS has sought to fulfil its mission not only by informing, educating and uplifting fellow beings but also by participating in cross-cultural and political exchanges to ensure that the promises and benefits of democracy are realized by all.
We at UNITED SIKHS believe that the development of enlightened and progressive societies can be made possible by socially conscious groups of people who make a commitment to develop and direct human potential. Our work, efforts and achievements stand as a testament to our faith in this vision.