UNITED SIKHS' Learning Values Series Moves on to Gurudwaras
New Delhi: The Learning Values Series, which was hitherto organized in schools, last month reached a local Gurudwara, to address students of different age groups. On January 27th 2008, UNITED SIKHS conducted its IVth Series of Learning Values programme, titled: 'Turban- the Proud Heritage', at Gurudwara C- Block, Vikas Puri, New Delhi.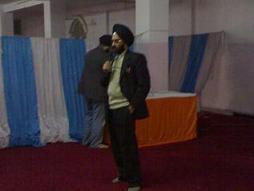 Dr. J S Arora, role model, addressing students of the Learning Values programme
The need to move the event to a Gurudwara was to cover a larger group of students who would benefit from the awareness on the wearing a Sikh Turban.

The event began with the welcoming of a role model, Dr. J. S. Arora, General Secretary of the National Thalassemia Welfare Society & Federation of Indian Thalassemics and the chief guest S. G. S. Cheema, Vice President of the Shiromani Akali Dal Delhi (Badal).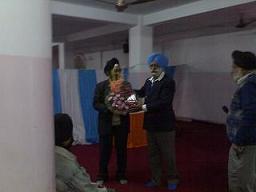 Chief guest S. G. S. Cheema presenting bouquet to S. J. S. Arora
Dr. J S Arora shared his experiences on the importance of wearing a turban. He advised the children to start wearing a turban at an early age and said, "Start wearing the Turban at the age of 12 and be perfect before leaving school so as to graduate as a handsome well-dressed Sikh."


UNITED SIKHS volunteer Harpreet Singh led a presentation entitled 'Turban-The Proud Heritage'. The children greatly enjoyed the slide show and participated actively.
The chief guest S. G. S. Cheema, while honouring the role model with a bouquet said, "Being a Sikh, we should never take a rest whilst doing good. It is an old saying 'a winner never quits, a quitter never wins".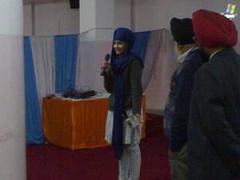 Simranjeet Kaur, a Turban wearing Sikh girl sharing her views and experiences with the students
The UNITED SIKHS team then led an interactive session and answered all queries satisfactorily. Students who took the initiative in asking questions were rewarded with chocolates.
One of the participants, Simranjeet Kaur, a Turban wearing young Sikh student of Akal Academy, Baru Sahib, shared her experiences and said, "With my Turban on, I gain more respect. I am respected wherever I go".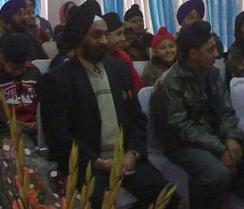 The role model and the students during the Interactive session
Jaspreet Kaur, 16 yrs old and a student of S. S. Mota Singh Sr. Sec. School said, "The programme was very good. It was quite informative and I got to know many new things about my culture and religion which makes me feel proud to be a Sikh."

Refreshments were then served to all participants.
You may read a previous press release on the Learning Values Series at http://www.unitedsikhs.org/PressReleases/COMVCE-26-12-2007-00.htm

Issued By:

Komalmeet Kaur
Learning Values Project Coordinator
UNITED SIKHS-Asia
Tel: 0091 9818096705

---
Our Mission
To transform underprivileged and minority communities and individuals into informed and vibrant members of society through civic, educational and personal development programs, by fostering active participation in social and economic activity.
UNITED SIKHS is also an avenue for networking between like-minded organisations to establish and nurture meaningful projects and dialogues - whether social, cultural or political- to promote harmony, understanding and reciprocity in our villages, towns and cities.
UNITED SIKHS is a coalition of organisations and individuals, who share a common vision based on the belief that there is no greater endeavour than to serve, empower and uplift fellow beings. The core of our philosophy is an unwavering commitment to civic service and social progress on behalf of the common good.
Accordingly, UNITED SIKHS has sought to fulfil its mission not only by informing, educating and uplifting fellow beings but also by participating in cross-cultural and political exchanges to ensure that the promises and benefits of democracy are realized by all.
We at UNITED SIKHS believe that the development of enlightened and progressive societies can be made possible by socially conscious groups of people who make a commitment to develop and direct human potential. Our work, efforts and achievements stand as a testament to our faith in this vision.