Community Voice
Thursday, 08 December 2005
25th Maghar (Samvat 537 Nanakshahi)
Guilty Verdicts for NY Sikhs' Assailants
Sikh community asked to turn up in support for sentencing on 22nd December
Queens, New York—A long-awaited guilty verdict was returned on Monday for the five men who attacked 49-year-old Rajinder Singh Khalsa over a year ago in the Queens area of New York. UNITED SIKHS representatives were present when the Honorable Judge Seymore Rotker handed down the verdict Rajinder Singh Khalsa had been seeking. The case is not concluded and UITED SIKHS asks the Sikh community to be present at the sentencing on December 22nd 2005.
UNITED SIKHS Director Kuldip Singh and Legal Consultant Tejinder Singh, were joined by 5 family members, 10 members of the District Attorney's Office and members of the press as the judgement was read out. While the verdict has been passed, the sentencing of the 5 assailants will be conducted on December 22, 2005. In lieu of this, Mr. Tejinder Singh remarked, "it is imperative that we come out in force on the sentencing date to tell the court that these men need to see jail time."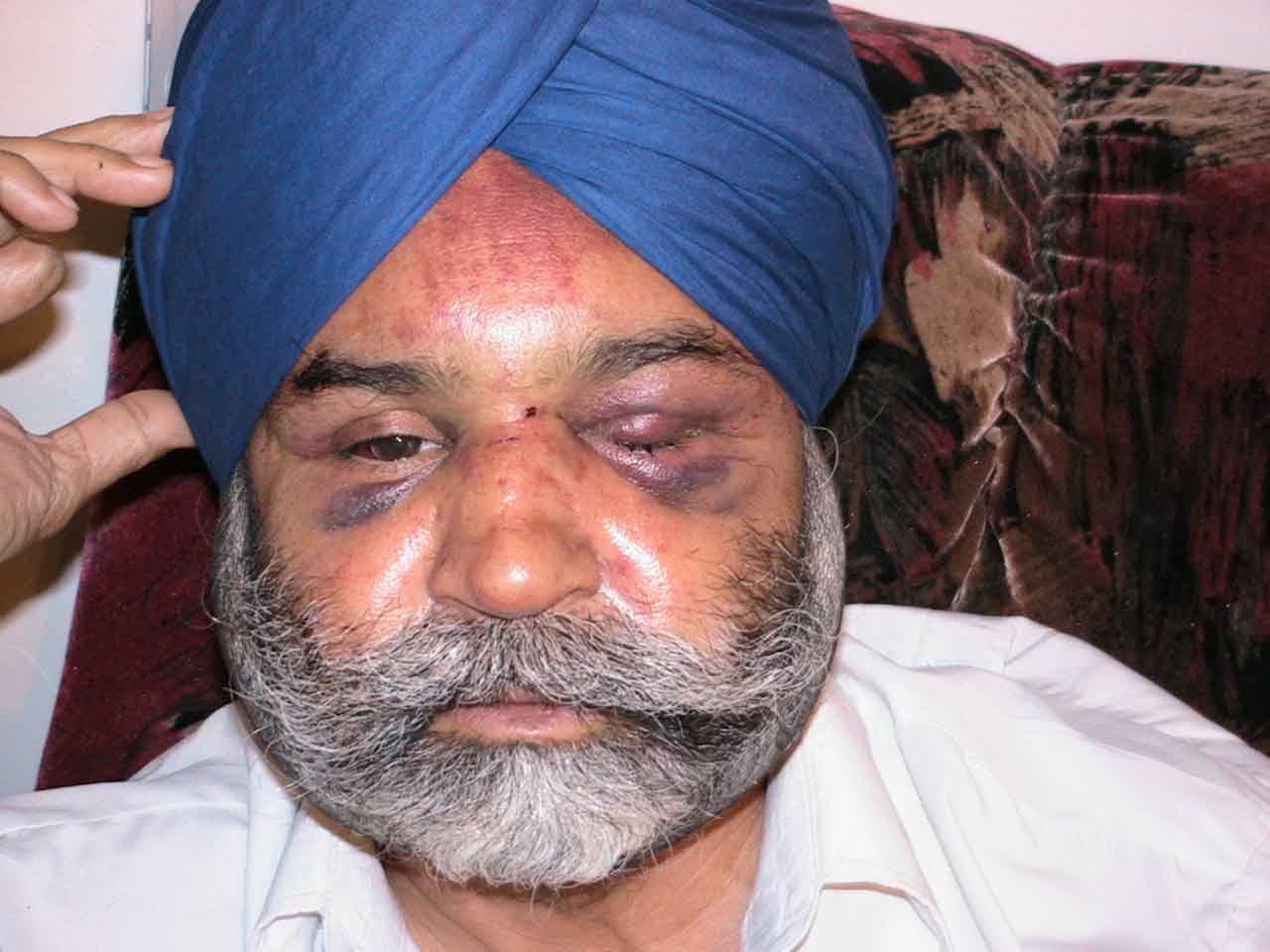 Rajinder Singh Khalsa After the Attack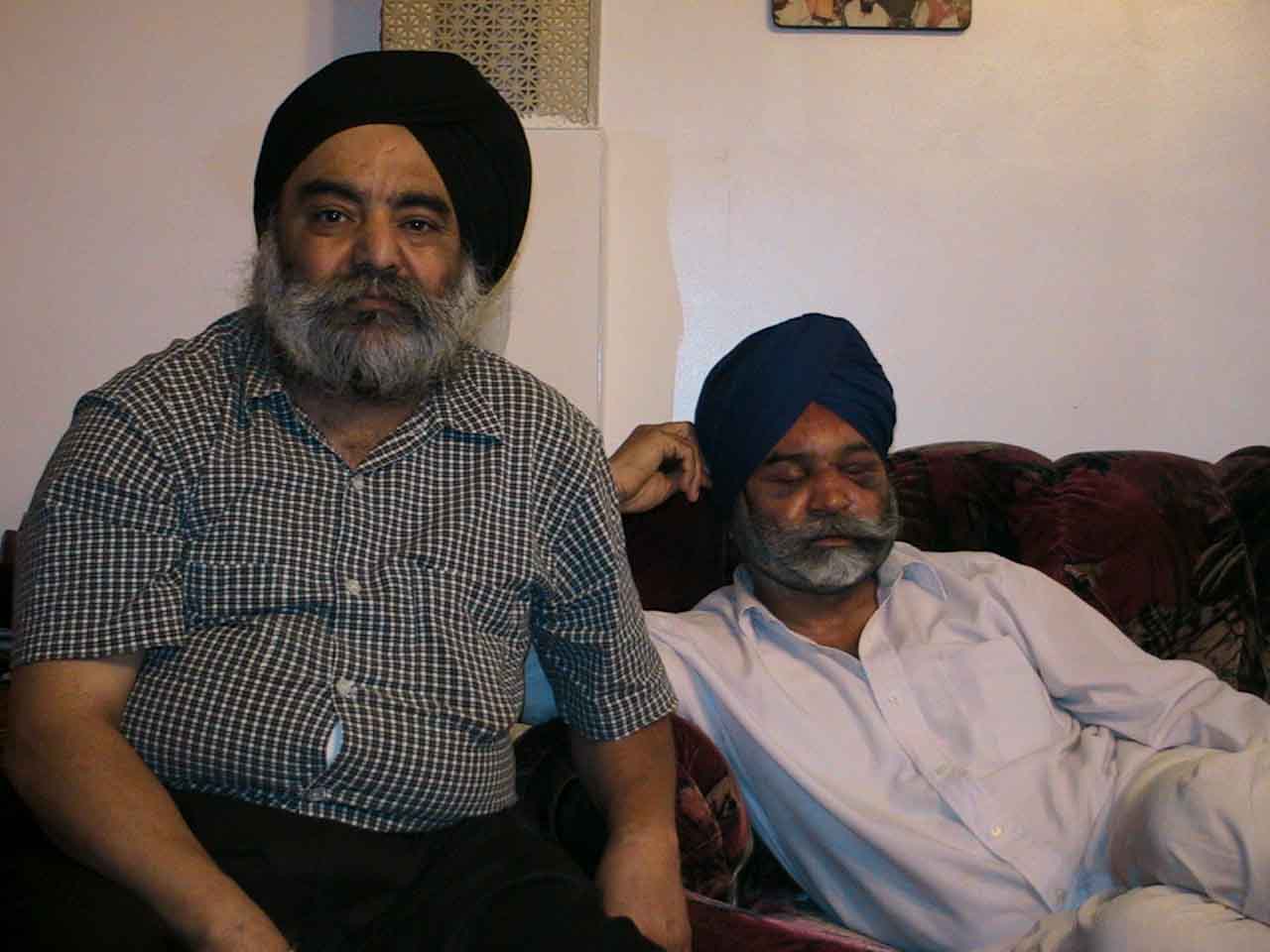 Rajinder Singh and Gurcharan Singh – both victims of the attack.

While the defendants in the trial have received a guilty verdict, the sentence can range anywhere from probation to jail time. Therefore, UNITED SIKHS urges the Sikh community to attend the December 22, 2005 sentencing hearing to make sure that those guilty of such horrific crimes against fellow Americans are sent a clear message: The Sikhs will not stand idly by and be terrorized.
The Honorable Judge Seymour Rotker delivered the verdict against the 5 assailants as follows:
Nicholas and Sal Macelli: Guilty of Second Degree Felony Assault.
Terrance Lyons: Guilty of Aggravated Harassment.
Ryan Meehan: Guilty of Aggravated Harassment.
Victor Costontino: Guilty of Harassment.
Rajinder Singh Khalsa and his cousin, GurcharanSingh, were viciously beaten by the above assailants in July of 2004 on their way to a local restaurant. The intoxicated perpetrators began shouting profanities and making remarks against the victims' turbans, which finally led to physical assault of both Mr. Khalsa and Mr. Singh, with Mr. Khalsa receiving multiple fractures to the face and eye sockets. Details of the incident can be found at the following link:
http://www.unitedsikhs.org/rtt/sikhmanattackedqueens.htm
Issued by:
Manwinder Singh
Director, International Civil and Human Rights Advocacy
UNITED SIKHS
Toll Free: 1-888-243-1690
---
Our Mission
To transform underprivileged and minority communities and individuals into informed and vibrant members of society through civic, educational and personal development programs, by fostering active participation in social and economic activity.
UNITED SIKHS is also an avenue for networking between like-minded organisations to establish and nurture meaningful projects and dialogues - whether social, cultural or political- to promote harmony, understanding and reciprocity in our villages, towns and cities.
UNITED SIKHS is a coalition of organisations and individuals, who share a common vision based on the belief that there is no greater endeavour than to serve, empower and uplift fellow beings. The core of our philosophy is an unwavering commitment to civic service and social progress on behalf of the common good.
Accordingly, UNITED SIKHS has sought to fulfil its mission not only by informing, educating and uplifting fellow beings but also by participating in cross-cultural and political exchanges to ensure that the promises and benefits of democracy are realized by all.
We at UNITED SIKHS believe that the development of enlightened and progressive societies can be made possible by socially conscious groups of people who make a commitment to develop and direct human potential. Our work, efforts and achievements stand as a testament to our faith in this vision.