Delhi Sikh School Kids listen to Role Models About the Turban
Rabbi Shergill, a renowned singer's, message to the school kids: "Those of my generation and I have a duty to pass on all the different components of this 'complex' culture to you -- the next generation".
New Delhi: UNITED SIKHS organised the second Learning Values Series II last Friday, at Guru Nanak Public School, Rajouri Garden, New Delhi, for children between the ages of 11 to 12 years. The objective of this workshop was to make children understand the importance of wearing a Turban.

The event started with the welcoming of the Chief Guest, Sardar Inder Singh, Chairperson, Guru Nanak Public School and all the role models who included S. Anoop Singh ji (Ex- Member of the Indian Railway Board), S. Harvinder Singh Phoolka Ji (Senior Advocate), S. Gursharan Singh Walia Ji (Regional Manager Materials, Delhi, Taj Palace Hotels) and Bhai Sahab Bhai Baldeep Singh ji (Managing Director, Anad Records Pvt. Ltd.)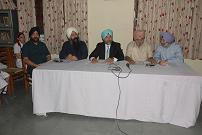 (From left) Chairperson S. Inder Singh and the Role Models Bhai Baldeep Singh, S. Gursharan Singh, S. Anoop Singh and S. Harvinder Singh Phoolka

Each of the role models and the chief guest shared their experiences and views with the children. Bhai Baldeep Singh Ji described the importance of wearing a Turban in an outstanding way and also read the following message from Rabbi Shergill, a renowned singer:
"Hi there kids: Pagrhi is a complex thing for me to talk about. I want to give you an overview. This world comprises of many cultures and its long-term balance depends on the survival of all of them. Think of the world as a building with many pillars. Now think of Sikhism as one of them. Think of Punjabiyat as one of them. It is crucial that it survives. It is crucial that the others survive. It is in our collective interest that all cultures survive.
Culture usually has one super-ideal. In our case, it is a merger with Akal. To get there, to help us achieve that ideal, we develop lifestyles that comprise of what we eat, how we dress, how we conduct our inter-personal behavior etc. These lifestyle elements have certain pleasant and unpleasant aspects. And we are all forced to judge/upgrade them against the social background. Right now, the background is 'Globalization'. The world is relentlessly marching towards one culture. The problem with uniform cultures is that they break down easily. Like complex eco-systems, complex culture-systems are more resilient.

Rabbi Shergill
Those of my generation and I have a duty to pass on all the different components of this 'complex' culture to you -- the next generation. And you will have the duty to pass it to the next one and so forth. All this so that the world is a more stable, richer place. Pagrhi is a crucial component of this culture. So, you know why you must wear Pagrhi -- for world peace!"
S. Anoop Singh ji spoke of the pride with which he wears his Turban followed by S. Harvinder Singh Phoolka ji who said:
"Sikh students with Turbans are ambassadors of the Sikh Community. In the early days of my practice as a lawyer, my Turban was of immense help. Due to Turban, I was considered a mature and an experienced lawyer. At every forum where I have attended, I have enjoyed a special status due to my Turban".

Then S. Gursharan Singh ji spoke for few minutes supporting the others' views. The Chief Guest, S. Inder Singh presented all the role models with mementos and UNITED SIKHS CDs with the translation of Japji Sahib in English.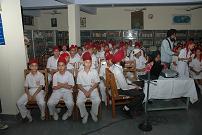 Children participating during the slide show

A slide show titled 'Turban - The Proud Heritage' based on the importance of wearing a Turban and relating it with the values it contains was led by UNITED SIKHS volunteer, Harsimran Singh. The school children enjoyed the slide show and participated in high spirits.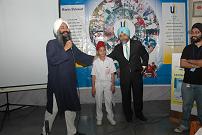 Pushpinder Singh, Class VII B during the Interactive Session with Bhai Baldeep Singh ji and S. Gursharan Singh ji

A lively interactive session was led by Bhai Baldeep Singh ji, S. Gursharan Singh ji and UNITED SIKHS volunteers.

"Learning values II was a program for class VII students to make them aware of the importance of Turban. It was important to address this since these students will start wearing turban from next year. We shall continue with the Turban theme for next couple of months & take up different aspects concerning Turban so that these students look forward to wearing turban as a proud heritage" said K.J. Singh, UNITED SIKHS Empowerment and Education Directorate.

Chocolates were given to the children who took the initiative to ask questions. Feedback forms were handed out to students and all participants were very positive about the gains they made.

Everyone appreciated the efforts made by UNITED SIKHS and agreed that these events should be held once a month and some said that they should be conducted fortnightly.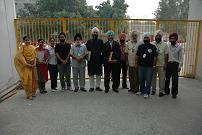 Role Models and the UNITED SIKHS Team
Shally Grover, student of Class VII B stated "This event has helped us in learning many things about our culture, history and religion".
It has also been decided that prizes will be given away to the best three feedback forms filled by the children. Refreshments were served to all the students and the programme was concluded successfully.

You may read about the first UNITED SIKHS Learning Values event at
http://www.unitedsikhs.org/PressReleases/COMVCE-06-10-2007-00.htm

Issued By:

Komalmeet Kaur
Learning Values Project Coordinator
UNITED SIKHS-Asia
Tel: 0091 9818096705

---
Our Mission
To transform underprivileged and minority communities and individuals into informed and vibrant members of society through civic, educational and personal development programs, by fostering active participation in social and economic activity.
UNITED SIKHS is also an avenue for networking between like-minded organisations to establish and nurture meaningful projects and dialogues - whether social, cultural or political- to promote harmony, understanding and reciprocity in our villages, towns and cities.
UNITED SIKHS is a coalition of organisations and individuals, who share a common vision based on the belief that there is no greater endeavour than to serve, empower and uplift fellow beings. The core of our philosophy is an unwavering commitment to civic service and social progress on behalf of the common good.
Accordingly, UNITED SIKHS has sought to fulfil its mission not only by informing, educating and uplifting fellow beings but also by participating in cross-cultural and political exchanges to ensure that the promises and benefits of democracy are realized by all.
We at UNITED SIKHS believe that the development of enlightened and progressive societies can be made possible by socially conscious groups of people who make a commitment to develop and direct human potential. Our work, efforts and achievements stand as a testament to our faith in this vision.