Please Be Involved, Click here and Join UNITED SIKHS
To receive forthcoming bulletins join our UNITED SIKHS Yahoo group by emailing PR_UNITEDSIKHS-subscribe@yahoogroups.com
To donate go to www.unitedsikhs.org/donate
Community Voice
Sunday, 08 January 2006
26st Poh, Samvat 537 Nanakshahi
English Flavour at Dallas Sikh Youth Camp
Dallas,Texas: At a Dallas Sikh youth camp last week, professional storyteller Roop Singh and UNITED SIKHS' youth empowerment programmes co-ordinator, Ravinderpal Singh, disproved the Shavian phrase that 'England and America were two countries divided by a common language'
Roop Singh from Yorkshire and Ravinderpal from London proved that accents don't matter if they are speaking the common language of Sikhi. They ran workshops for over 80 youths, aged 6 to 20, during a week long Sikh youth camp in Dallas, which was co-organzed by the Singh Sabha Gurdwara Dallas and UNITED SIKHS.

This camp came about when Dallas-based UNITED SIKHS' director, Gurvinder Singh, was approached by the Singh Sabha Gurdwara Dallas to help run a camp with a difference.
"Ravinderpal Singh, UNITED SIKHS' Youth Empowerment Progammes co-ordinator, was due in New York for a 6-month stint to run youth programmes. I grabbed the opportunity to ask him to show us how differently camps are run in the UK. Roop Singh too was well known to UNITED SIKHS chapter in the UK. We put our heads together and came up with a camp that both the participants and organisers are still talking about," said Gurvinder Singh.
The campers had discussions on Sikh history and learned shabads, including the camp theme shabad, "Saajanarraa maeraa saajanarraa nikatt khaloeiarraa maeraa saajanarraa". Ravinderpal Singh led the UNITED SIKHS hazoori ragi jatha and soon all campers were card-carrying members of his Jetha.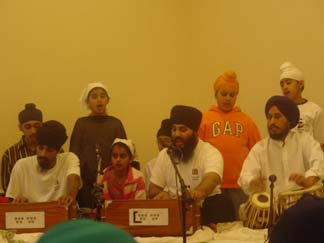 The campers singing shabads with the UNITED SIKHS Hazoori Jetha
Bhai Roop Singh shared his vast knowledge of storytelling to capture the campers' imagination of Sikh history. Bhai Roop singh was extremely pleased with the children's' responses to this particular activity: "This is extremely wonderful. I asked the kids to write stories and all the kids were really responsive."
As well as focusing on the spiritual, the children also partook in leadership training, teamwork building, and physical fitness through a variety of interactive and innovative methods. They also participated in various ice-breaker activities and co-operation games, both fun and challenging, designed to allow the children to get to know each other better. Brain teasers were given to the children. In order to initiate Ravinderpal Singh into American society, the campers also taught him some phrases that they felt would increase his American street credibility. Again, the aim was to take the campers away from the school environment and allow them to engage on all levels with their leaders, breaking the barriers between the youths and the adults.
The children were also encouraged to help out in the preparation of parshaad. The significance of Gurdwara practices was explained and myths exploded. Campers came to know their Guru first hand as they took the daily hukumnama and did the ardaas. Campers were taught to interact with Sri Guru Granth Sahib and to regard it as their eternal Guru. These activities were designed to make them feel part of the Gurudwara, to bring them closer into the hub of the daily routines of their local Gurudwara and to allow them to connect more closely with Sikhism.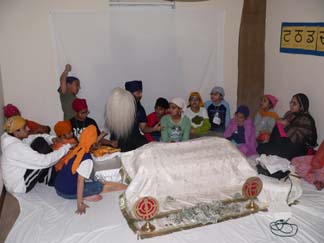 Youth Empowerment Programmes Coordinator Ravinderpal Singh talking to the campers about Sri Guru Granth Sahib ji
Meditation exercises were an important learning and calming device. The kids were made to lie down and meditate on Waheguru as they thought about their dreams and their aspirations in life.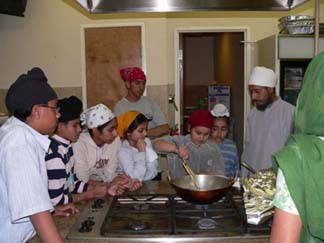 Campers help to prepare parshaad at the camp

Guest speakers were invited to give campers an insight into how mainstream society worked. Christy Zawadzkas a counsellor from Plano School District and Chris Gescheidle, a Richardson City Police Officer addressed the campers.
Through workshops, the campers were taught how to become integral and vibrant members of society. Some of the activities included taking part in problem solving activities which involved clearly defining a problem and finding solutions to enable them to deal with their lives as Sikhs in schools, stores, and other experiences they encountered in life, as young Sikhs. Camper Ramnik Kaur said "This has been a different experience as there was never a moment when I wasn't learning something new."
The management committee of the Gurdwara Singh Sabha was very helpful and ensured all materials and logistics were met. The Sangat made sure that langar and fruits were readily available for the campers. On New Years Day, Inderpal Singh, the chief organizer of the camp stated, "We thank UNITED SIKHS for the impacting and enlightening ways in which they came and interacted with the children."
The results from the camp were amazing. A few boys made an oath to wear a dastaar when they go to the Gurudwara and many girls also made a decision to refrain form cutting their hair. A sense of pride could be felt as the children carried a confidence for being a Sikh, being the sons and daughters of Guru Gobind Singh. Ravinderpal Singh, who has co-ordinated many camps throughout the world explained how overwhelmed he was by the response of the children at the camp and also how active the Gurudwara was in the community. He said: "I have never encountered such a group of kids with so much potential. It was a fantastic week full of love, devotion and inspiration".
UNITED SIKHS has clearly left its mark as a Sikh Eagles group has been formed at the Gurdwara to continue the activism and to ensure that the spirit of Sikhi continues to inspire and encourage these children who are indeed the future of Sikhism.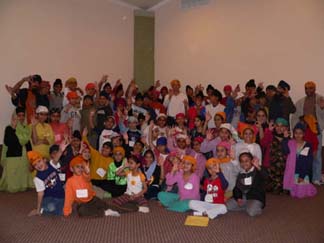 Sikh Youth Camp, Dallas 2005
Issued by:
Gurvinder Singh
Director
UNITED SIKHS
Tel 1 469-222-6288 (Toll Free: 1-888-243-1690)
---
Our Mission
To transform underprivileged and minority communities and individuals into informed and vibrant members of society through civic, educational and personal development programs, by fostering active participation in social and economic activity.
UNITED SIKHS is also an avenue for networking between like-minded organisations to establish and nurture meaningful projects and dialogues - whether social, cultural or political- to promote harmony, understanding and reciprocity in our villages, towns and cities.
UNITED SIKHS is a coalition of organisations and individuals, who share a common vision based on the belief that there is no greater endeavour than to serve, empower and uplift fellow beings. The core of our philosophy is an unwavering commitment to civic service and social progress on behalf of the common good.
Accordingly, UNITED SIKHS has sought to fulfil its mission not only by informing, educating and uplifting fellow beings but also by participating in cross-cultural and political exchanges to ensure that the promises and benefits of democracy are realized by all.
We at UNITED SIKHS believe that the development of enlightened and progressive societies can be made possible by socially conscious groups of people who make a commitment to develop and direct human potential. Our work, efforts and achievements stand as a testament to our faith in this vision.