Please Be Involved, Click here and Join UNITED SIKHS
To receive forthcoming bulletins join our UNITED SIKHS Yahoo group
To donate go to www.unitedsikhs.org/donate
This Community Voice may be read online at: http://www.unitedsikhs.org/PressReleases/COMVCE-06-11-2007-00.htm
Community Voice
06th Nov 2007
23rd Kattak 539 Nanakshahi



Sikhs Promote Fitness and help Juvenile Diabetes Research

Atlantans, please keep your eye out for the next event, coming up soon. Sikhs in other areas, please be proactive and organize such events in your community.
Atlanta, Georgia, USA –Inspired to promote fitness and help the young adults suffering with diabetes, a jattha (team) of Sikhs participated in a 3miles 'Walk to cure Diabetes' held in Atlanta, Georgia last month. The 'Sikhs for Fitness' team of the UNITED SIKHS lead by Parvinder Singh walked to support a worthy organization- JDRF (Juvenile Diabetes Research Foundation International). With that walk the Sikh community became a part of the 500,000 people at 200 Walk sites nationwide this year who are making a difference in the lives of people with type-1 diabetes.
As many as 3 million Americans have type-1 diabetes, a disease most often diagnosed in childhood, that strikes suddenly, lasts a lifetime, and carries the constant threat of deadly complications, including heart disease, stroke, blindness, kidney failure, and amputation. JDRF's mission is to find a cure for diabetes and its complications through the support of research. The 'Cure for Diabetes' walk draws people together in a healthy activity for a worthy cause to fundraise for research to help find a cure for the disease.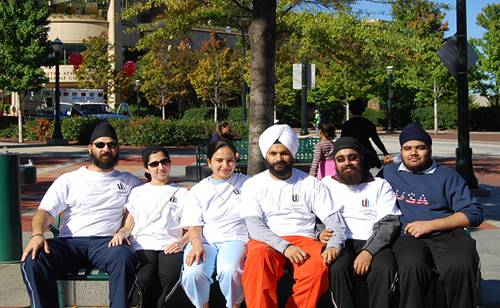 L to R: Bhavdeep Singh, Keerat Kaur, Vijaya Kaur, Parvinder Singh, Jaideep Singh and Fatehdeep Singh
It was the second 'Sikhs For Fitness' event organized by the Atlanta Sikhs this year. When Parvinder Singh saw the JDRF Walk poster in AT&T where he works, he got reminded of his colleague who had shared with him the pain of her teen who had Juvenile Diabetes. "I was a bit surprised hearing that because where I come from, diabetes is a late 40's phenomenon. I rarely saw anyone suffering from diabetes in their teens," said Parvinder Singh. He realized the pain which the parents and the child go through while struggling with this disease. "It is quite a phenomenal change in the lifestyle for the child and his parents," he added. He was pleasantly surprised to know various equipment exist to help control sugar levels and automatically pump the insulin into the body from time to time.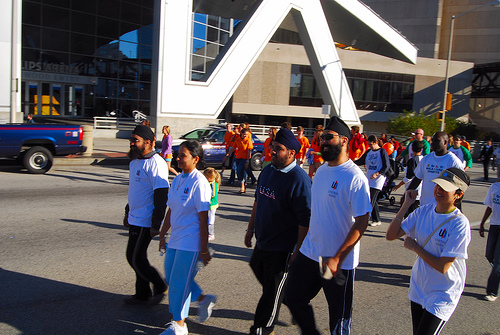 The morning of the walk, the team was astounded to see over 5000 participants gathered in the Centennial Olympic Park in the heart of Atlanta. A big presence of Corporate America was evident. "During the walk we could see lot of faces turning to the team with curiosity and anxiety. While we walked we pondered on Juvenile Diabetes, ways to educate our community about it and future ways of participation and support for the cause" said Parvinder.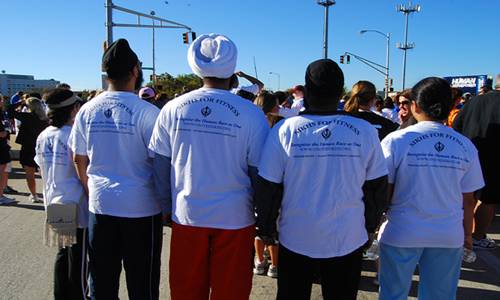 At the end of the walk the team coincidently met with Parvinder's colleague whose child has Juvenile Diabetes. She was very glad and thankful to see Parvinder and other Sikhs supporting the cause.
We accomplished 4 goals by being a part of the event:
Raised money and awareness for JDRF ; thus extending our Sewa spirit to main stream USA communities
Promoted the spirit of fitness: We raised our community's awareness on Juvenile diabetes. The information helped us to rethink the sedentary lifestyle and junk food culture we and our young ones have gotten accustomed to
Increased the visibility of Sikhs. When we walked with our Dastars, and uncut hair alongside our American brothers and sisters we showed the thousands of organizers and participants that Sikhs are mainstream USA citizens. We stand with everyone on helping our communities
Got together as a community in a fun environment outside of the Gurdwara, helping and encouraging each other to be proactive in such areas. Activism is the name of the game for Sikhs. The participation injected us with self satisfaction and a sense of gratitude to God for bringing us in spirit of unity and service.
Atlantans, please keep your eye out for the next event coming up soon. Sikhs in other areas, please be proactive and organize such events in your community. Encourage your young ones to start participating in such activities, to believe in themselves, and to get a head start in fitness.
Please visit http://walk.jdrf.org/ to organize and participate in the walk with your community, to support JDRF.
For more information on other 'Sikhs for Fitness' events organized by UNITED SIKHS please see: http://www.unitedsikhs.org/sikhs_for_fitness/
Issued by:
Gurmeet Kaur
Sikhs for Fitness Project Coordinator
UNITED SIKHS
Phone: 1-888-243-1690