New Delhi: UNITED SIKHS launched last weekend a monthly Learning Values workshop series at the Guru Nanak Public School, Rajouri Garden, New Delhi, for children between the ages of 6 to 8 years. The main aim of the workshop was to enrich the children with the knowledge of Sikhism in a creative way.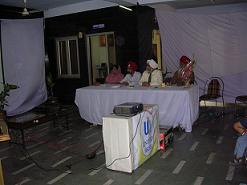 Chief Guest S. Jaspal Singh with other participants
The event started with the welcoming of the Chief Guest, Sardar Jaspal Singh, Director, UNITED SIKHS- Asia and other panel members which included S. Partap Singh (Ex. DIG BSF), S. Partap Singh (Director, Singh world), Sdn. Harvinder Kaur (Manager, Reserve Bank of India) and Harmeet Singh, founder of Sikhi Sidak, an educational organization.

A slide show titled 'Learning Values' on basic principles of Sikhism and how children relate to them in their daily lives was led by UNITED SIKHS volunteers, Harpreet Singh and Komalmeet Kaur. Saakhis (parables) on Sajjan Thug and Bhagat Farid were narrated to the 40 children who attended from the Guru Nanak Public School, Rajouri Garden and from the Kalgidhar Public School, Subhash Nagar. The childrens' participation was inspirational.

An animated movie titled 'Sahibzadey A Saga of Valour and Sacrifice' was shown to the children followed by a quiz and an interactive session to assess them. Prizes were distributed to the children based on their active participation, confidence, presence of mind and expressions.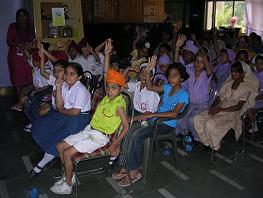 Children actively participating during the slideshow
Certificates were awarded to all the children 8 year old Gurvigaas Singh of Subash Nagar said after the event, "I enjoyed the workshop because the saakhis were told through animated pictures and I could visualize what was happening a few hundred years ago."

The participants were reminded of the duty the community has towards children by Sardar Jaspal Singh, who said, "We need to have steady roots if our trees are to remain evergreen. Our children are not only our future they also validate our present. It is, therefore, our duty to provide spiritual guidance in a way that will appeal to them."


The UNITED SIKHS learning Series workshop for children will be conducted monthly throughout Delhi at locations requested by the community, " said Komalmeet Kaur, UNITED SIKHS administrator, who was one of the workshop organisers.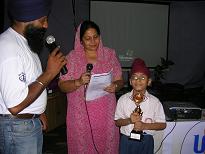 Sdn. Harvinder Kaur presenting the first prize to Sukhbir Singh, 8 yrs, of Rajouri Garden, Guru Nanak Public School, who won the first prize
Another guest who spoke was Surjeet Kaur, the Divinity teacher at the Guru Nanak Public School. She appealed to UNITED SIKHS to request the Rajouri Garden Gurdwara Management Committee to offer a daily subject on Divinity at the Guru Nanak Public school run by them in Rajouri Garden.




Issued By:
K.J. Singh and Harjeet Singh
Empowerment and Education Directorate
UNITED SIKHS-Asia
Tel: 0091 9818096705

---
Our Mission
To transform underprivileged and minority communities and individuals into informed and vibrant members of society through civic, educational and personal development programs, by fostering active participation in social and economic activity.
UNITED SIKHS is also an avenue for networking between like-minded organisations to establish and nurture meaningful projects and dialogues - whether social, cultural or political- to promote harmony, understanding and reciprocity in our villages, towns and cities.
UNITED SIKHS is a coalition of organisations and individuals, who share a common vision based on the belief that there is no greater endeavour than to serve, empower and uplift fellow beings. The core of our philosophy is an unwavering commitment to civic service and social progress on behalf of the common good.
Accordingly, UNITED SIKHS has sought to fulfil its mission not only by informing, educating and uplifting fellow beings but also by participating in cross-cultural and political exchanges to ensure that the promises and benefits of democracy are realized by all.
We at UNITED SIKHS believe that the development of enlightened and progressive societies can be made possible by socially conscious groups of people who make a commitment to develop and direct human potential. Our work, efforts and achievements stand as a testament to our faith in this vision.