Community Voice
Tuesday, 04 October, 2005
20 Assu (Samvat 537 Nanakshahi)
Rita Evacuees Receive Timely Help from the Sikhs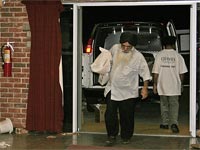 UNITED SIKHS volunteers carrying supplies into Ward 7.
Baton Rouge, Louisiana—UNITED SIKHS volunteers along with Ram Singh and Amritpal Singh, two representatives from Fremont Gurdwara, California, found a relief center where some 6000 Rita evacuees were in dire need of emergency supplies. A truck-full of goods donated by the congregation of the Fremont Gurdwara, including blankets, pillows, hygiene products and food which took over 35 hours to arrive in Baton Rouge, were a welcome relief to the evacuees.
The Ward 7 Citizens Center in Chauvin, Louisiana serves as a distribution center for Chauvin and the neighboring towns of Duloc, Montegut, Isle de Jean. The center had just opened its doors for this effort when UNITED SIKHS discovered it.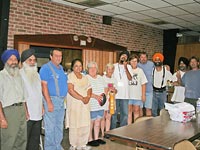 UNITED SIKHS volunteers with the director of Ward 7 and members of the community of Chauvin, LA.
Lou Carlos, Director of the Ward 7 Center said "We can not thank the Sikhs enough for their timely delivery of emergency supplies as we have an urgent need to distribute to families who have been left without anything but the clothes on their back."
The delivery to the Ward 7 shelter was the first assignment carried out to help the victims of Hurricane Rita, which pounded coastal Louisiana and Texas less than a month after the southwest was devastated by Hurricane Katrina. The UNITED SIKHS command center set up in Dallas, Texas for Hurricane Rita relief located and coordinated the arrival of supplies to the areas ravished by the hurricane. Sikh families and other shelters have been contacted and their needs are being assessed.
Katrina Hurricane Relief Links
Issued by:
Gurvinder Singh
Director
UNITED SIKHS
Katrina-project@unitedsikhs.org
Tel: 1 469 222 6288 (Toll Free: 1 888 243 1690)
---
Our Mission
To transform underprivileged and minority communities and individuals into informed and vibrant members of society through civic, educational and personal development programs, by fostering active participation in social and economic activity.
UNITED SIKHS is also an avenue for networking between like-minded organisations to establish and nurture meaningful projects and dialogues - whether social, cultural or political- to promote harmony, understanding and reciprocity in our villages, towns and cities.
UNITED SIKHS is a coalition of organisations and individuals, who share a common vision based on the belief that there is no greater endeavour than to serve, empower and uplift fellow beings. The core of our philosophy is an unwavering commitment to civic service and social progress on behalf of the common good.
Accordingly, UNITED SIKHS has sought to fulfil its mission not only by informing, educating and uplifting fellow beings but also by participating in cross-cultural and political exchanges to ensure that the promises and benefits of democracy are realized by all.
We at UNITED SIKHS believe that the development of enlightened and progressive societies can be made possible by socially conscious groups of people who make a commitment to develop and direct human potential. Our work, efforts and achievements stand as a testament to our faith in this vision.