Please Be Involved, Click here and Join UNITED SIKHS
To receive forthcoming bulletins join our UNITED SIKHS Yahoo group by emailing PR_UNITEDSIKHS-subscribe@yahoogroups.com
To donate go to www.unitedsikhs.org/donate
Community Voice
Tuesday, 03 January 2006
21st Poh, Samvat 537 Nanakshahi
Bagh in Flood Chaos – Relief Work Continues
Islamabad, Pakistan- Extremely bad weather conditions hit Bagh and Muzaffarabad and other Quake affected areas last weekend posing challenges to relief work. Many routes to and from Bagh and Muzaffarabad have been closed, with some roads such as the Sudan Gali Pass under eight inches of snow. Roads have also been closed due to heavy landslides, preventing anyone from travelling.
UNITED SIKHS Volunteer in Pakistan, Harsharen Kaur, co-ordinating the schoolbag appeal for the Quake affected school in Bagh, is waiting for the weather to improve to transport, on a UN airplane, the cargo of relief material, including schoolbags, that was sent by UNITED SIKHS donors in London.
Chaos in Bagh has ensued with many NGO's tents collapsing or flooding due to severe weather conditions.The situation has become extremely critical with the UN also setting up a tent cleaning rota for all humanitarian workers, in order to keep the roofs of the tents from collapsing further. Harsharen Kaur reports: "All priorities have changed, the UN are desperately seeking supplies to keep people warm and dry as the torrential weather has meant people have been unable to light fires. We urgently need plastic sheets, rubber boots for adults and children, raincoats, and any other waterproof articles." She also added: "There are no distributions taking place as there is no means of transportation, not even by air. Many of the NGO's, even United Nations are just battling to keep their operations and base camps running as well as aiding the Earthquake survivors to get through this period and stay alive. Today I realised that I am here because of compassion as well as duty."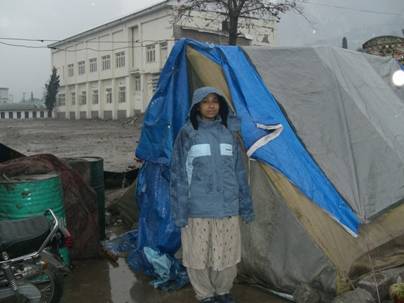 Harsharen Kaur at the Guru Nanak Relief Camp in Muzaffarabad, in poor weather conditions
Harsharen Kaur has been advised not to travel to Bagh by Pakistan's armed forces' transport, the only means into Bagh, as the weather is expected to worsen over the next few days. Harsharen Kaur has has been joined in Islamabad by UNITED SIKHS volunteers, Ramesh SIngh and Mahinderpal Singh. Ramesh Singh said, "Our sister, Harsharen has been as brave as Mai Bhago, going to the tribal areas on her own, where a woman has limited rights and visibility"
"We will move the relief material, including schoolbags, to Bagh and distribute them when the weather improves," Ramesh said, recognising that present conditions have been likened to a prison, by UN Logistics co-ordinators..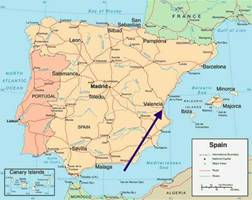 Left to Right: Mahinderpal Singh, Harsharen Kaur and Ramesh Singh taking on the mantle for future UNITED SIKHS projects in Pakistan
They will also be running other UNITED SIKHS projects. These include a project with the relief group, ADRA ,to provide duvets to Earthquake survivors for the winter; distribution of 600 pairs of hats, gloves and socks to children in Bagh, the provision of hot bulbs and wiring to assist the heating of over 200 tents housing up to 1500 and 2000 survivors in the Guru Nanak Relief Camp in Muzzafarabad. UNITED SIKHS is also working with HOPE 87, another non-governmental organisation based in Austria to provide 13 shelters to homeless families in Bagh, which will house over 100 people through the winter months. UNITED SIKHS has also been approached by Pakistani Sikhs to provide humanitarian assistance in local schools and for setting up poverty alleviation programmes in the quake affected areas.
Harsharen distributed items of clothing, kindly donated by the people of London, in Bagh on 18 December. UNITED SIKHS were granted 100 kg free freight by British Airways and Pakistan Airlines provided freight at reduced rate. London volunteers of the London Integrated Network of Kaurs and Singhs (LINKS) worked tirelessly to receive and pack the donations in order for them to be sent with Harsharen when she left or Pakistan on the 10th December.

Harsharen (in red) distributing warm clothes generously donated by Londoners, in the MUSLIM HANDS UK tent.
Harsharen described the sheer joy of people, especially children as the items were distributed. She described emotional encounters with some of the children affected by the disaster. Children like Shabana, who she said "Could not stop smiling, in the face of such dire circumstances. Some of the children enjoyed the attention and also the break from the harshness of their surroundings. It's amazing to think how little this small girl had to smile about, yet smile she did!"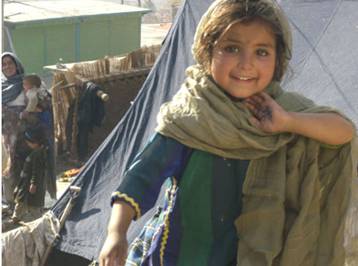 Little Shabana amidst the poverty and the rubble, smiling away, thanks to the generosity of the public in London.
Harsharen also met with another young child named Osman. He and his family fled from Afghanistan to Bagh after the war on terror was declared during the aftermath of 9/11. Harsharen said: "To have lived through so much at such a tender age really puts things in perspective for those of us who have never had to face a tenth of the hardship and suffering these children have endured, and are overcoming."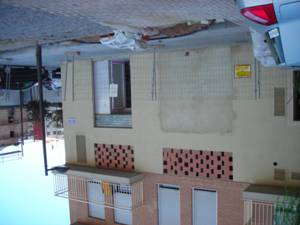 Osman smiles away, behind him all that remains of his family's home, is a pile of rubble.
And whilst we were all partying away to usher in the new year, Harsharen saw in the New Year in style, spending it at the Guru Nanak Relief Camp, distributing hot jalebis to the survivors in the camp, no less for a hopeful and positive start to 2006. To read Harsharen's blog click
here
.
To read a previous Press Release on the Asian Quake Relief project please see http://unitedsikhs.org/PressReleases/PRSRLS-19-12-2005-00.htm
Issued by:
Manpreet Kaur
UNITED SIKHS
Tel +44 (0) 870 1993328
---
Our Mission
To transform underprivileged and minority communities and individuals into informed and vibrant members of society through civic, educational and personal development programs, by fostering active participation in social and economic activity.
UNITED SIKHS is also an avenue for networking between like-minded organisations to establish and nurture meaningful projects and dialogues - whether social, cultural or political- to promote harmony, understanding and reciprocity in our villages, towns and cities.
UNITED SIKHS is a coalition of organisations and individuals, who share a common vision based on the belief that there is no greater endeavour than to serve, empower and uplift fellow beings. The core of our philosophy is an unwavering commitment to civic service and social progress on behalf of the common good.
Accordingly, UNITED SIKHS has sought to fulfil its mission not only by informing, educating and uplifting fellow beings but also by participating in cross-cultural and political exchanges to ensure that the promises and benefits of democracy are realized by all.
We at UNITED SIKHS believe that the development of enlightened and progressive societies can be made possible by socially conscious groups of people who make a commitment to develop and direct human potential. Our work, efforts and achievements stand as a testament to our faith in this vision.